Got Questions About Your Surf Trip To Taghazout?
We have tried to cover off any questions you might have below and do keep this page updated, but if you can't see the question (and answer) that you need, please do drop us a message and we'll try and get back to you within 12 hours.
Things to remember for your Taghazout surf trip:
1) Sun cream! Yep, it is sunny the whole year round and it is bizarrely expensive buying good quality sun cream in Taghazout.
2) Alcohol in the duty free section of your departure airport. If you fancy a nice cold G&T or a wee dram, then buying it at the airport is going to much cheaper than Agadir supermarkets.
3) Flip flops, caps / sun hat… small thing, but when it is hot, you don't want to be wearing trainers and socks.
4) Hand sanitiser – there's a chance you might get Moroccan belly (24 hour vomiting / diarrhoea bug), help yourself by thoroughly washing your hands / sanitising them before anything goes in your mouth.
5) Hoody / jeans for the evenings! Sometimes it gets pretty chilly up on the terraces at night time, so worth bringing some warm clothes so you can enjoy the al fresco experience 🙂
6) Cash is king! There are no ATMs in Taghazout and lots of the cafes and restaurants only accept cash, so whilst you are at the airport it is definitely worth pulling out 1000 – 2000dhs so you always have some money on you.
Things you don't need to bring to Surf Berbere:
Towels – we provide them, we have some beach towels as well if you need.
Linen – again we provide this. We don't normally change your sheets if staying for a week, but if you want us to, just ask. Sometimes guests accidentally bring sand in to their rooms etc, don't just put up with it, ask us and we'll get the bed changed up. (Rooms / bathrooms in the camp are cleaned every day though).
Food / snacks! Hopefully you'll find our meals wholesome and hearty, but there are loads of little grocery stores in town that sell all sorts of biscuits / snacks, so if you do have the munchies you needn't go hungry.
Water – same as above, we provide water at meal times and for the beach but you can always buy more bottled water in our cafe or in the grocery stores in town.
Still not seen your answer?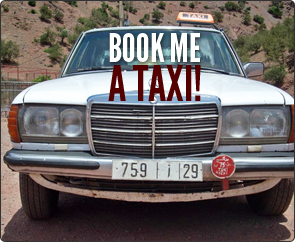 How To Get To Surf Berbere
Agadir is the nearest airport, is it the only option?
Agadir Al Massira airport is our nearest airport (Agadir only has one airport for international travel, so sometimes it is just called Agadir Airport).
To see who flies to us, just check skyscanner, it will show up the cheapest options for getting to us.
Here are the journey times from our nearest airports:
Agadir Airport: 55 minutes drive
Marrakech Airport: 3 hours and 30 minutes drive
Essaouira Airport: 2 hours and 30 minutes drive
We can do taxi pickups from all of these airports, rates below:
Agadir Airport: 300dhs (roughly £22)
Marrakech Airport: 1200dhs (roughly £85)
Essaouira Airport: 700dhs (roughly £50)
If you'd like us to organise your pickup, just enter in the flight info when making a booking.
We share the cost of the trip between everyone coming in on the same flight, so if you are coming in on the easyjet flight to Agadir, then often the airport transfer will be just £5 – £10.
Can I get a bus to Taghazout or Agadir and get a lift from there?
Absolutely!
From Marrakech there are CTM and Supratours buses that depart from Marrakech every hour. Follow these simple steps for getting to Agadir from Marrakech.
1. Hop in a petit taxi from the airport (or wherever you are in Marrakech) to "gare routiere". 50dhs for the taxi.
2. Buy a ticket with Supratours or CTM to Agadir. 105dhs per person for the 3 hour journey.
3. Give us a call on 00212 528 200 290 when you know what time you'll arrive and we'll arrange a pick up from Agadir for you that costs just 100dhs.
Easy!
From Essaouira, you can catch the bus to Agadir and if you speak nicely to the driver you can ask him to drop you off in Taghazout as the bus goes through the village on it's way to Agadir. Failing that, just ring us on 00212 528 200 290 and we'll get someone to come and get you from the Agadir bus station.
From Casablanca, it is advisable to get an internal flight to Agadir as the journey time on the trains and buses is about 7 hours. If you are not pressed for time, then you should get a train from the airport (the train station is joined to Casa Airport). This takes you to Marrakech, a short 100m walk from the train station is the Supratours bus station. Then follow the steps above!
How do I book an Agadir Airport pickup?
Very simple, when you make the booking, you can enter in your flight arrival information for us to have someone waiting for you at the airport to bring you to Taghazout. The pickup from Agadir airport is 300dhs (roughly £22) but we split this fare between everyone coming in on the same flight, so it works out very cheap to get to us.
If you don't have your flight information at the time of booking, just e-mail us afterwards with the flight arrival information when you have it and we'll add it to the system to ensure you get a pickup.
You can also ask the driver if he wouldn't mind stopping off at Carrefour on the way through if you'd like to pick up some beers or wine etc. He will do this at no extra cost to you.
Any problems, just ring our office on 00212 528 200 290.
How do I book an Agadir bus station pickup?
Very easy, if you know well in advance your bus departure time from Marrakech, then e-mail us with your bus company name (CTM or Supratours) and the departure time and we'll add 3 hours on to this for the journey time. Then you will see a driver waiting for you at the bus station with a Surf Berbere sign ready for you.
If you are booking a bus ticket last minute, then please ring our office on 00212 528 200 290 and let them know the departure time so that we can be 100% sure to have the driver waiting for you.
Can I make my own way to Surf Berbere?
Sometimes people hire a car or have organised a lift. This is absolutely fine, just take a look at the map below to get an idea of where we are and take down our office phone number if you get lost: 00212 528 200 290.
Our office hours are between 8am and 8pm, so if you can try and organise to get to us between these times that is really helpful. Generally we try and avoid any arrivals after midnight unless we are organising the transport. We have had too many sleepless nights waiting for guests to arrive only to hear that they have got lost on the way. So please if you are planning on arriving later than 8pm, use our transport options!
How do I get to Taghazout from Marrakech
There are a few easy ways to get to Taghazout from Marrakech.
Option 1) A taxi direct, this is 1200dhs and takes 3.5hrs.
Option 2) Get a 'petit taxi' to the bus station in Marrakech and get a bus down to Agadir bus station. Then we can get a taxi to come and collect you from Agadir bus station (for 100dhs). Bus tickets are 110dhs with CTM and Supratours (both with regular services).
Option 3) Check out the new transport company Souk To Surf as they are doing runs directly from Marrakech to Taghazout for a fraction of the cost of a bus, use promo code: BERBERE to get a discount.
Option 4) Hire a car. Sometimes the car rentals will let you leave the hire car at a different airport to the town you picked up from.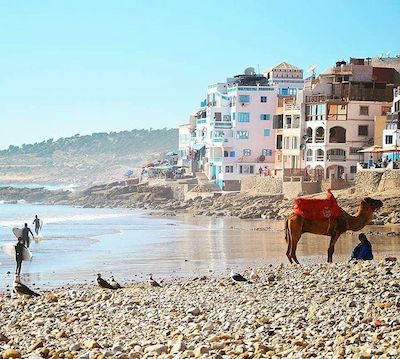 Packages, Arrival Days, Surf Camp Options
Is there a set arrival day when most people start their week?
We don't have a set arrival day, but we do find that most people start on Saturdays purely because this is when a lot of the flights come in to Agadir. It is absolutely not a problem to come any other day of the week and our surf school goes out every day (including Sundays) and we have yoga every day as well.
If you are not sure, just drop us a quick message to double check.
I can only come for a few days, but want a Surf & Yoga Package?
This is no problem, so if you can't come out for a full week, rather than putting you on a shorter package, we'll actually build you up your own bespoke package. This means you can choose exactly what you fancy doing in your time with us. It may be that you have a late flight on your last day and you can squeeze in a full day surfing with us etc.
Here's a link to our Bespoke Holiday page, where you can see all the information and prices on how to build up your own bespoke surf holiday with us:
I'm keen to stay for more than a week, is there any chance of a discount?
Yes, of course, just drop us a message! If you are able to spend more than a week with us, that would be fab. It creates a really nice atmosphere having people who have been out for a while mixing with new guests and we really want people to stay as long as they can with us. So yes, please do, just drop us a message and we'll see what we can do on our rates for you.
There are a group of us looking to come out, can we get a discount?
We automatically give a group discount on our rates, so abso ruddy lutely! All you need to do is go to the booking page and you'll see when you enter in a big group in the QTY it automatically applies a discount on the next screen.
If you are thinking you'd like a bespoke package put together for your group, this is also very easy for us to do and we'd be happy to do it. In the past we have had stag groups, wedding parties, uni groups, hen parties, girls weeks, yoga weeks, you name it over the years we have done it.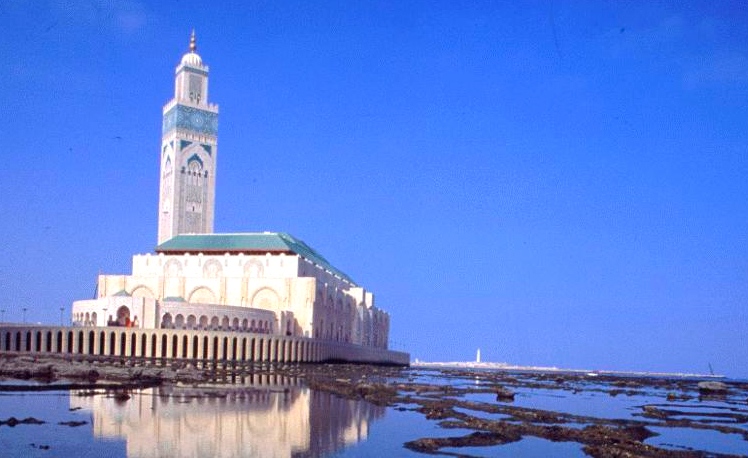 Culture, Religion & Drinking Alcohol
I have heard Taghazout is a dry town, can I drink alcohol during my holiday?
Whilst Taghazout is a dry town, that doesn't mean it is illegal for tourists to drink, it just means that currently there are no bars or restaurants in our village that sell booze.
You are welcome to bring any duty free over, or even ask our drivers to stop off at Carrefour on the way through to pick up some beers, wine, gin etc to have whilst you are staying with us. All that we ask is that you are a little bit considerate of the locals and don't go round drinking in public.
So in summary, you are welcome to drink at the surf camp or in your apartments, but not really whilst walking down the street with a beer can in your hand.
We don't sell alcohol at the surf camp, but we will happily organise for you to do a run in to a supermarket in Agadir if you want to go and pick some up.
I am a woman, is there anything I should know about visiting a Muslim country?
Morocco is one of the most tolerant Muslim countries out there. Read a guide book from ten years ago and you will be told to dress head to toe with nothing showing. This is not the case anymore. Taghazout and Agadir are European tourist destinations and the locals will not be shocked by much, however we would ask that all our clients respect local customs.
With this in mind, if you are walking around the streets try and wear some clothes rather than just your bikini. Down at the beach it is completely fine. Mind you, having said that, lots of the tourists do still wander around in just bikinis, so it is not the end of the world.
It is OK for me to travel around on my own as a solo traveller?
Yes and no is the answer here. Morocco is one of the most welcoming and friendly countries that you will ever visit. However, I wouldn't recommend my wife walking around the streets of London late at night and in a similar vein of thought, we really don't recommend people who are travelling on their own to be out and about on their own in the evenings.
If you are planning on coming out to stay with us on your own, just use our airport transfers and then when you are with at the camp, you'll pretty instantly make some new friends and then you will no longer be traveling on your own. All of our meals are communal, the day out surfing is communal so you automatically meet new people and as such it doesn't even become an issue.
In summary, if you are planning on travelling all over Morocco on your own, then perhaps consider going with a friend, if you are just coming for a weeks surfing with us and we are collecting you from the airport and dropping you back off at the airport, then you are absolutely fine to come out on your own and we get loads of guests doing it every week!
Can I come during Ramadam?
Yes, we are open all year round. Ramadam is based on the lunar calendar and as such shifts around in our calendar each year, but we are open throughout Ramadam as well.
It might just mean that our Moroccan staff are partying a little less hard than usual!
Is Taghazout safe?
Over the 12 years that we've been in Taghazout, there have been just a handful of incidents that have occurred (and normally some alcohol has been involved) so in short yes.
As with anywhere town in the world, try and avoid walking around at night on your own (that being said, plenty of families make it part of their evening routine!).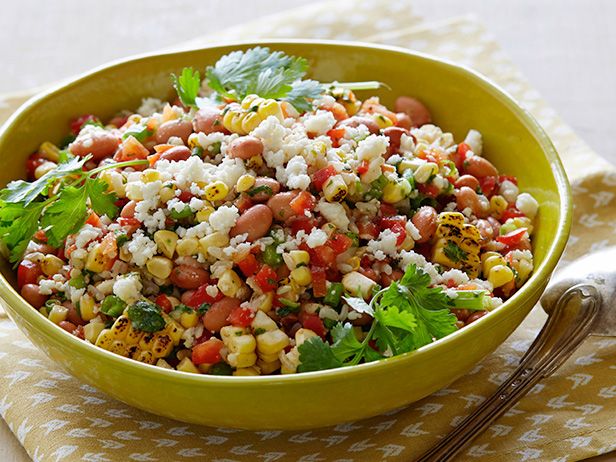 Dietary Requirements, Vegetarians, Vegans & Pescatarians
Do Surf Berbere cater for special dietary requirements
Absolutely, our kitchen team are there to make you 100% happy. So as long as you let us know what you like, don't like, eat and don't eat, we'll do our very best to ensure that you get delicious, nutritious and filling meals three times a day.
We regularly have vegans, vegetarians, pescatarians and people with allergies staying so don't worry at all about any dietary requirements, just put it down in your booking form so we can transmit the information to the kitchen guys.
If you are unsure about any of the meals that we are preparing, just have a word with our hosts or the kitchen guys directly and if you want us to cook you are separate meal we'll do it right away.
I have a really strong allergy, is this OK?
Without knowing what the allergy is we can't be 100% sure, the best thing is to e-mail us in advance and let us know what the allergy is. We have had guests before with peanut allergies so bad that they can't eat meals prepared by a frying pan that previously had nuts in it, no matter how long ago.
We'll obviously do our best to be 100% sure that we can cater for you. If there is any doubt, what we'll do is explain our reservations and in the case where we don't think it will be possible, we'll try and find you a self catering apartment and get you some brand new pots and pans so that you can at least be sure that you'll be able to enjoy your holiday without worrying about an allergic reaction.
I have a few things that I really don't like eating, is this a problem?
We're here to make sure you have a great holiday. If there are certain foods you really don't like, just let us know what they are and we'll make sure we always have a different meal prepared for you.
You will be out surfing for up to 8 hours a day, we need to make sure you have the right fuel to keep you going!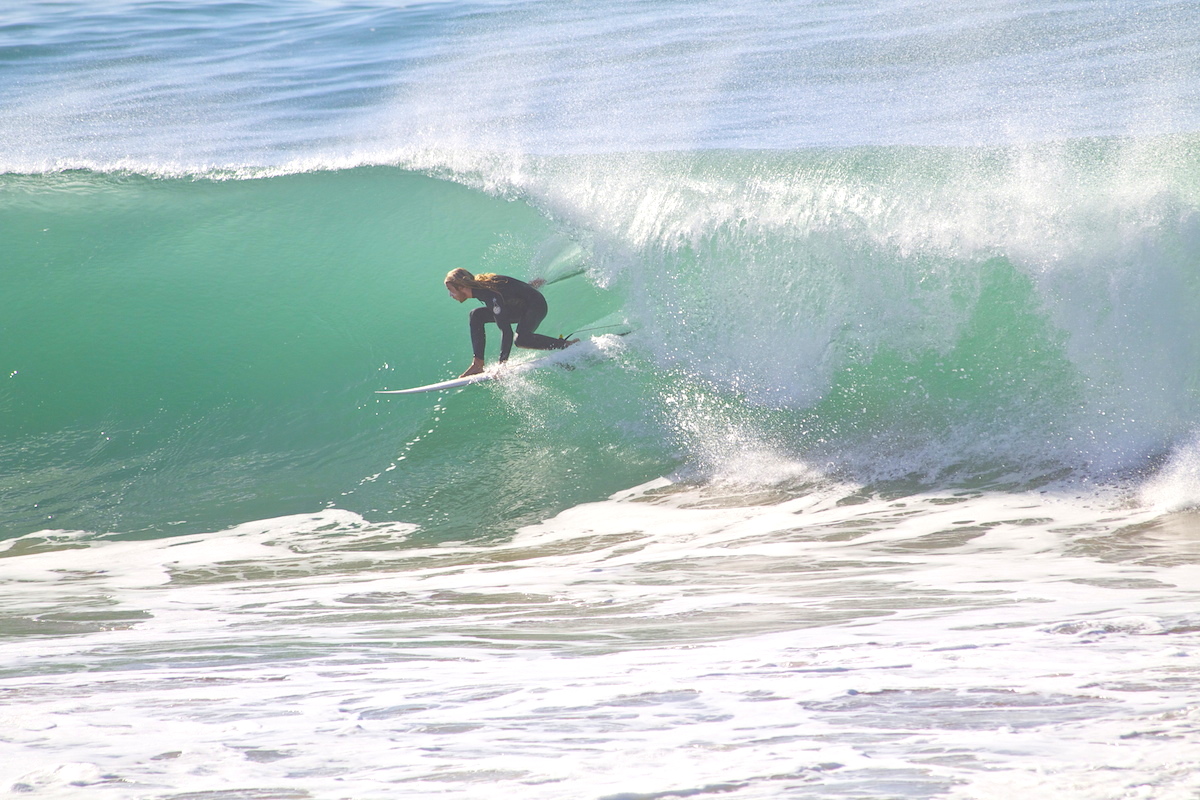 Surf Season, Swell & Weather
When is the best time of year to come surfing in Morocco / Taghazout?
No doubt you will have heard lots of conflicting messages about the best time of year to come surfing in Morocco. The first thing to understand is that it is not the same for everyone, different levels of surfer are looking for different things.
Beginners: All Year
Morocco is a fabulous year round destination for learning to surf. As a beginner you want to get chest to head high waves in the sunshine. This is something that we can do for you year round due to the proximity of so many great beaches near Taghazout.
Intermediates: September through to June
As an intermediate you are somewhere between catching nice waves and wanting to get some point breaks and reef breaks, but you are not too fussed about it being double overhead and barreling (don't get me wrong the odd cheeky barrel is welcomed, but at this stage it is something that happens to you, rather than you sought it out!). With this in mind, you should consider coming to Morocco any time throughout the year apart from July and August when it is normally quite flat and sometimes very hot. We have so many waves near us in Taghazout that we can get you to some great conditions pretty much any time of year.
Experts: December through to March
As an expert, you want it to be pumping, we get it! In that case, you need to come between December and March to give yourself the chance to score Anchors absolutely pumping, double overhead, or Boilers walling up, or even racing Killers fast barreling sections.
The swells are more consistent and bigger over the Winter period, so if you want big waves, you need to book in your trip around then. If you want to get the waves in Taghazout, don't just book a 3 day holiday, book yourself a 3 week holiday so you can be sure to get a couple of good swells and not risk being either side of a good swell.
What is the weather like in Taghazout?
We are blessed with some of the best weather possible, year round sunshine! Yes, that is right, apparently we get 330 days of sunshine a year on average, and the best bit, it is also 20 – 30 degrees celsius pretty much every day, even during the Winter!
The big seasonal shift between the Winter and Summer is that in the Winter the evenings get much colder, so bring a jumper for chilling up on the roof terrace with your beer after a long day surfing. Don't worry though, you'll still have gotten sunburnt during the daytime.
Do I need to bring warmer clothes?
If you are coming to stay with us between September and June, we'd recommend bringing out a pair of jeans, a jumper and a jacket. The daytime temperatures get up to between 20 degrees celsius and 30 degrees every day, but in the nighttime it can get quite cold up on the terrace.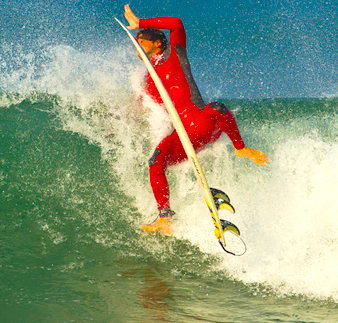 Vaccines, Travel Insurance, Money, Payment
What vaccines should I get?
Since COVID hit, fully vaccinated tourists can enter without a PCR test (just bring proof of your vaccines). DUKORAL has seemingly got an amazing record with Moroccan belly / traveller's sickness and given the higher incidence since the sewage works in Taghazout, we'd now recommend everyone take this if they can.
Do I need travel insurance?
Absolutely, it is compulsory for everyone to have their own comprehensive travel insurance which must include watersports and specifically surfing.
We will always ensure that an injured guest gets taken straight to a private health clinic, but when it comes to the payment of the hospital stay it will be the guest's insurance that must cover the costs.
Here is a link to Nomads surf travel insurance (which we recommend as it is clearly set up for surfers), but it's definitely doing some research on options depending on what you are planning to do on your trip:
Should I change money in to Moroccan Dirhams (Dhs) before I get to Morocco
Our advice is not to change any money outside of Morocco. We will accept payments in any major currency at the surf camp and importantly you get much better rates at the exchange offices and banks once you are inside Morocco.
The airports all have cash machines as well where you will get a better rate simply by pulling cash out on an international debit or credit card.
How do I pay for my stay with Surf Berbere
If possible, we ask guests to settle up the remaining balance of their holiday 2 weeks in advance of their holiday. We can do this via a card payment or paypal.
If you'd prefer to pay on arrival, we can accept cash or we can take the payment on the office card reader but we charge a 4% surcharge on card payments as this is what the local banks charge us to take card payments.
We can always organise a short ride to Aourir where the nearest bank ATMs are to help you pull out some cash if you need. This is also something we can do if you end up doing lots of extra activities with us and need some extra cash to settle up with.
Where is the nearest bank machine / ATM
Taghazout currently doesn't have any ATMs. We are happy to organise you a quick ride to Aourir (the neighbouring town), or you can pull money out at the airport where there are a few ATMs.
Should I bring travellers cheques
Nope, don't bother, no one in Morocco takes travellers cheques apart for a few of the larger hotels. Credit and debit cards are starting to be accepted in more and more places, but generally speaking most transactions are still made in cash.
Have We Answered All Of Your Questions?
If you have any other questions, just get in touch with the contact form below. If you think that you are ready to book in your holiday, click below:
Directions
Our office is right on Hash Point above the cafe. The best way to get to us is to walk along the seafront to Hash Point, where you will see the cafe with it's wooden decking. If you ask in the cafe they can show you the office. If coming along the main road, drive until you see a big building named Riad Taghazout, down the side of the building you will see some concrete steps taking you down to the sea, follow these steps towards the building with the Surf Berbere panel on it.
Address: Surf Berbere, Apt 3 Hash Point
Taghazout, Morocco, BP48
Phone: 00212 528 200 290
Business Hours: 8:00am-8:00pm every day