THE ULTIMATE TAGHAZOUT SURF CAMP PACKAGE
GBP

433

per person per week

We have years of experience organising fantastic surf holidays in Morocco and our Taghazout surf school package has been created to give you the perfect Morocco surf holiday. From start to finish this package has been designed to make your stay with us in Taghazout easy, fun and enjoyable.

This package is ideal for complete beginners and people learning to surf and still not consistently getting out to the back and catching green waves.

If you are a more experienced surfer, please check out our Experienced Surfer Package.
Accommodation:
Stay In Taghazout's Favourite Surf Camp
When you book our surf school package, you will be staying in Taghazout's best known surf camp. Our surf camp is right on Hash Point enjoying pride of place in the heart of Taghazout. Anyone who has ever stayed with us will be able to vouch, you can't find a better location, you are literally five yards from the water's edge and just a two minute walk main street in the town where the majority of shops and restaurants are.
Here are just a few images below from our surf camp that give you an idea of where you'll be staying if you book with us.
Amazing Surf Lessons:
2hrs In The Morning & 2hrs In The Afternoon
Every day we send out up to 4 people movers (oh the glam!) with groups of no more than 8 guests per instructor. Normally it works out that there are groups of 3 – 5 people with each instructor. Your day looks something like this: Wake up at around 8am, wander over to our cafe and enjoy a selection of fresh fruits, cereals, breads and spreads on the wooden decking overlooking hash point, then at around 9am the instructors will take you up to the surf shop where we organise your board and suit. We aim to get you to the beach for 9.30am each morning, although this does depend on which spot we are taking you to.
For more advanced surfers, we normally have a group or two heading to the points and reefs, so just ask about this as well. 
Once we get to the beach, the surf instructors will take you for a warm up and then give you a bit of a theory session on the land before sending you out in to the water. We normally have a couple of hours of coaching in the morning followed by a packed lunch down on the beach. Then there is more coaching in the afternoon for anyone that still has the energy. At around 4pm, we start to pack up and head home in time for a sunset yoga session.
Every evening we'll ask for your feedback and we're so confident that you'll love our lessons that if anyone is unsatisfied, we'll refund 100% of their day's surfing straight away.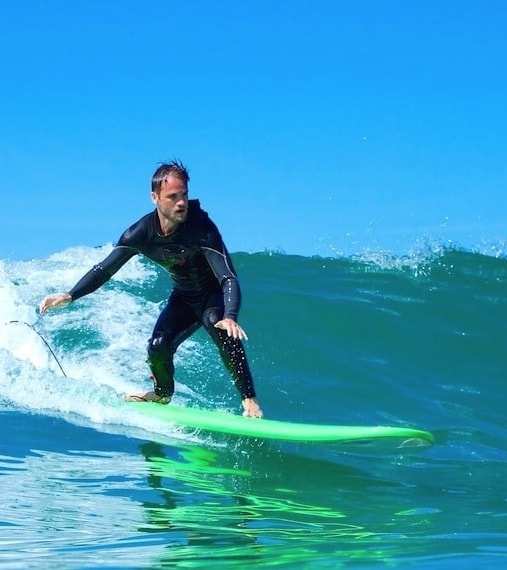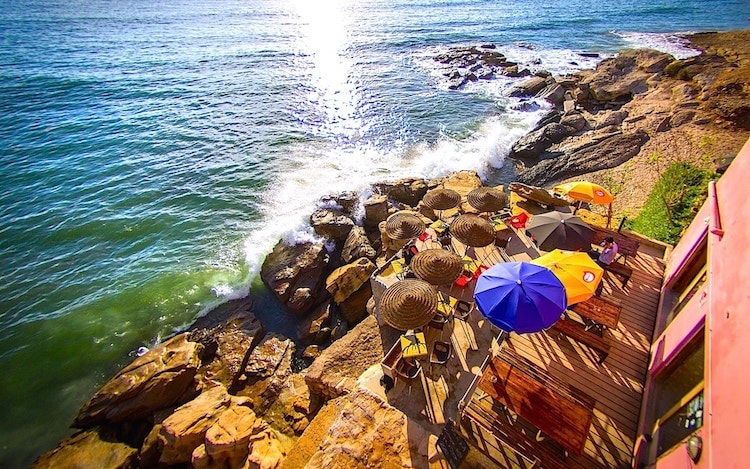 Breakfast, Lunch & Dinner:
Eating Together Like Kings
Every morning we have a lovely breakfast selection from the cafe between 8am – 9am. The breakfast is made up of fresh fruits, cereals, yoghurts, freshly baked breads and spreads and some pancakes (who doesn't like pancakes, bananas and nutella!).
Then once we are down at the beach we have simple packed lunches of either salads or sandwiches. Each evening we head up to the surf camp roof terrace for a hearty 3 course dinner.
Each week the menu varies a bit, but generally there is a mix between traditional Moroccan meals such as tajines and couscous and good old fashioned barbeques and pizzas! If you are vegetarian, vegan or have any dietary requirements, just let us know when you book in.
The way we have set up the cafe and the surf camp is so that meals are communal, so you'll get to meet other people staying at the camp without it having to be a big effort.
BOOK YOUR MOROCCO SURF HOLIDAY NOW
Click BOOK NOW to check availability and book in!
Easy Day Trips From Taghazout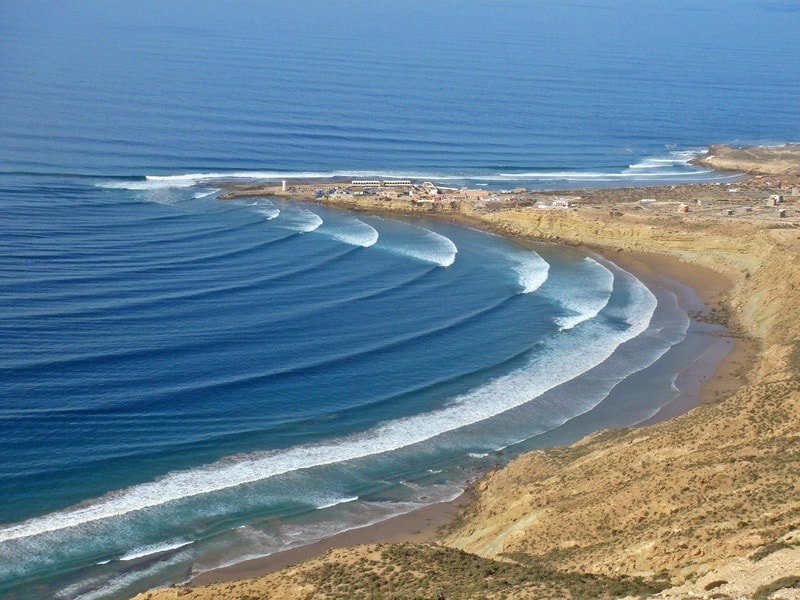 Immesouane
When the swell is right, we'll try and get you up to Immesouane, home to one of the longest right hand waves in the world! Immesoaune is a beautiful fishing town with a stunning backdrop of mountains and cliffs. It is an absolute favourite of our guests and we try and get up there as often as we can. We head off nice and early in the morning, have a morning session surfing, then hit up the fish market for locally caught catch of the day. This is then grilled up to be served with some fries and salads. We normally have time for another session in the afternoon before hitting the road back to Taghazout.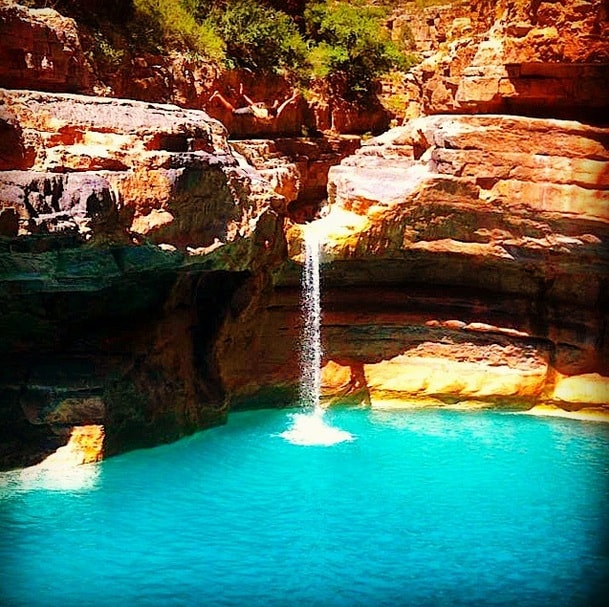 Paradise Valley
Once a week we try and take a group off to Paradise Valley. It is a 45 min drive to the mountains behind Aourir. Once we have parked up, we do a 15 minute walk into the valley where you come across a series of lush rock pools in a beautiful oasis. Normally we have a tajine up there, cooking whilst we are off swimming and doing the rock jumps. Then on the way back we stop off at an argan cooperative where the local ladies show you how the oil and creams are all made!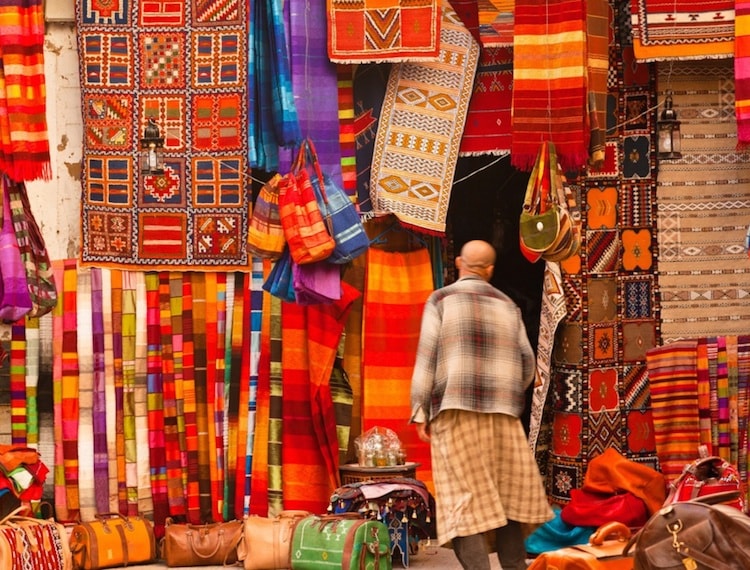 Agadir Souk
This is what we'd describe as an entry level souk. Charming, easy going and no hassle, but with all the same moroccan artifacts that we were hoping to find. If you ask the hosts, we can easily organise a group to head in to Agadir for an afternoon of wandering round the souk where you can get your last minute presents for the family back home, or just look longingly at stunning moroccan lamps that will in no way work in your house back in England!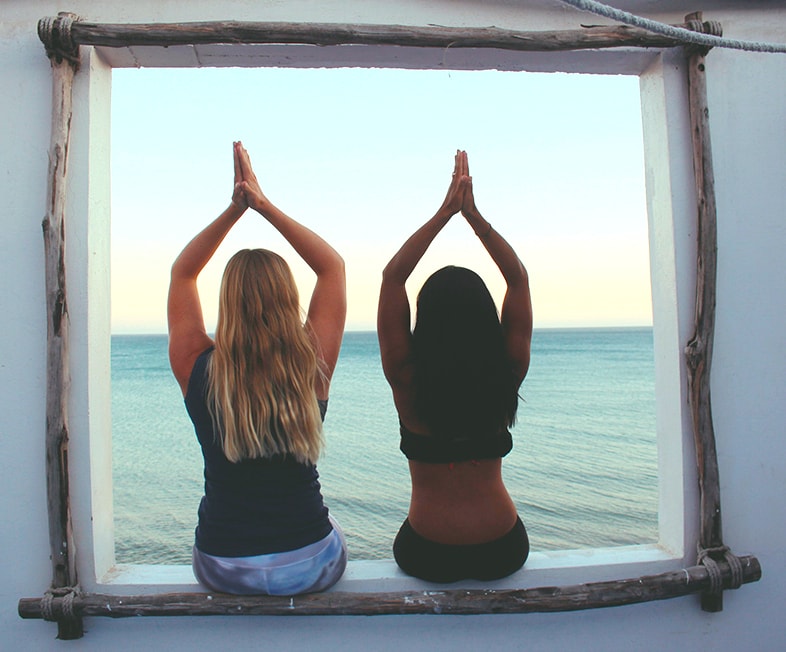 Day Trips & Extras Explained
Day trips, massages, and beach rides are not included in the package, but we are more than happy to organise them for you. The Surf & Yoga Package has 5 days of surfing, this means you'll have a day off and potentially if you have an evening departure flight, another half day to fill at least.
So with this in mind, we have some great extra activities that you can do. We have the paradise valley trip for just 300dhs all in, the Immesouane day trip is 300dhs.
If you fancy heading to the Agadir souk, we can organise for you to go in for just 100dhs, for all of these trips we need a minimum of 3 people to be keen to go otherwise we'll need to charge a bit extra. Then other things you can try out are camel riding, horse riding on the beach, or if you are a bit tired or fancy a bit of relaxation we can book you in for a massage (from 400dhs for an hour).
GBP

433

per person per week

• 7 nights accommodation in our Taghazout surf camp.
• 5 days surf lessons
• 5 days board hire
• 5 days wetsuit hire
• Cafe KR buffet breaky, packed lunches at the beach and all evening meals up on the camp roof terrace.

Choose this package if you keen to learn to surf with some expert guidance and happy staying in one of the best surf camps in Morocco. If making a group booking, or you are a student get in touch and we'll be able to organise a discounted rate.
Not Included
– Flights
– Airport Transfers
Whilst the airport transfers are not included, what we do is split the fare between everyone coming in on the same flight. So for the 55 min ride, the max you will pay is £24 (300dhs, which is the standard fare determined by the local government), but if you come in on a popular flight, you can split the cost with up to 7 other people.
If you are coming as a group, let us know and we can include the airport transfers with your package.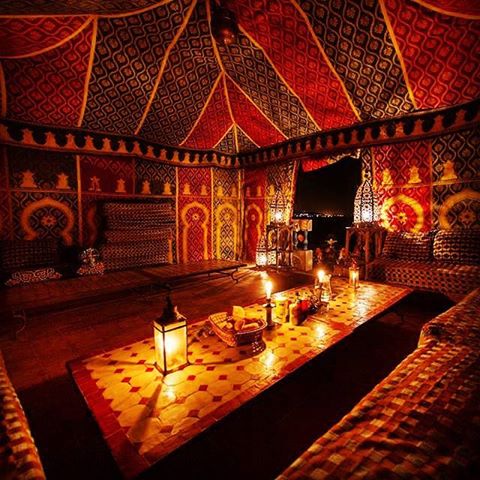 BOOK YOUR SURF HOLIDAY NOW
Just click BOOK NOW to check availability and book in instantly!
Thank you so much for the most amazing week. We had the best time ever and can't wait to come back!
Guys, couldn't fault it, the food was great, the company excellent and Imad and Rachid had me standing on day 1. I am already thinking about when I can come back again.
Check Out Our Surf Holiday Packages
Not 100% sure if you fancy this package, then why not see what other options we offer!
VIEW PACKAGES & PRICES