SURF BERBERE SIMPLE BEGINNINGS….
Two schoolmates, James and Tudor, started Surf Berbere after they came out on a week long holiday to Morocco. Just two days into his Morocco surf holiday to Taghazout, James had the opportunity to put down a deposit of a whopping £200 for one of the now "Surf Camp" flats, with the contract stating that he had one month to complete the payment or lose his enormous deposit.
With a bit of begging, pleading and lot of help from friends and family the guys got enough money to get a couple of the flats and what is now the Surf Berbere Cafe plot as well.
Times where tough in the beginning, the locals didn't like surf camps, another surf camp had burnt a few of the locals, and the general vibe around town was against any new foreign surf companies. After 12 years of hard work, numerous local initiatives, lots of beach cleans, donations to local surf clubs, sponsoring surf comps and paying towards the skate park, the local folk have come to love Surf Berbere (love might be a bit of a strong word, they like us for sure). We hope you will as well!
Taghazout is the capital of surfing in Morocco with the best surf spots all within a 15 minute drive of our surf camp. We'll make sure you get the best waves on your surf holiday!
WHY TAGHAZOUT?
Taghazout is a small fishing village about 20km North of Agadir. Since Europeans came to Taghazout in the 60's, it has developed into the surfing mecca of morocco, with multiple world class waves all within a 15 minute drive.
When the Atlantic swells roll in you have about 20 different world class spots that all light up at the same time, all just minutes from each other.
Our Surf Berbere surf camp is perfectly placed literally 5 metres from the jump off point of Hash Point a fun, fast point break. From the surf camp terraces and the cafe you can check the surf from Panoramas all the way up to Anchor Point.
A Great Place To Learn To Surf
If you are a beginner there are always perfect chest to head high waves on a nice, safe, sandy bottomed beach.
We don't just use one beach, we drive to the beach that is going to be perfect for you on that day (unlike most other surf schools that will just use the same stretch of beach day in, day out). This means that you get to catch as many green waves as you can!
WHY STAY WITH US?
We have the best reputation around town, built from providing fantastic value for money and really working to show you a great time in the surfing Mecca of Morocco! Our surf camp caters for up to twenty-five people (although we can stretch for larger groups). We are not trying to grow into the biggest surf camp in Morocco, just maintaining our position as the best loved!
Our team have been surfing their whole lives and our local knowledge is second to none. The surf camp is easily the best-located accommodation in Taghazout – the surf camp building is the pink one with tent at the back of the building on the roof top!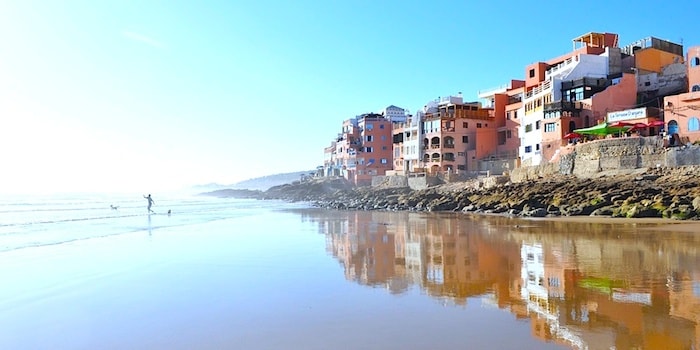 WE'VE GROWN OVER THE YEARS
We started out as a simple small surf camp, don't worry, that is still very much the case. However, a few years ago we managed to get our cafe opened just along the rocks from the surf camp on Hash Point. The cafe is in a superb spot, enjoying views over Hash Point, but it is also the perfect spot for watching the sun set over Anchor Point.
We have also managed to get our own little surf shop going, in it we stock a whole range of long boards, short boards, foamies and NSPs for hire, as well as boards and suits for sale.
Then last year we managed to finish our new Bouad Apartments. These are our luxury option for anyone wanting to have a bit more space and comfort, oh and floor to ceiling views of the ocean!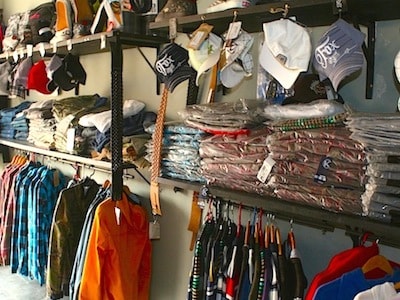 SURF BERBERE SURF SHOP
Stocked full of short and long boards, beginner boards, pro charging boards for a big day at anchors our surf shop has a board for every day of the season!
We also have some clothes, bootys, suncream, wax, any last minute things you need for a surf! We'll do your repairs as well.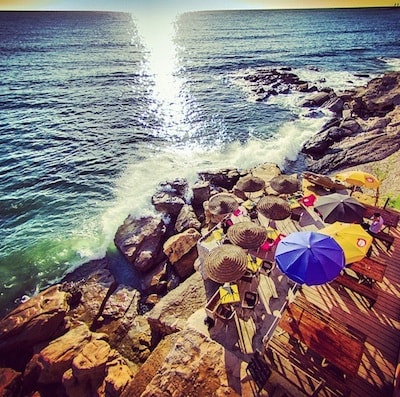 CAFE SURF BERBERE
A great little spot on the seafront. Our little cafe serves up fresh fish and calamari every day.
The cafe also enjoys the best sunset view of Anchor point, so if you don't fancy doing some yoga upstairs, just relax and enjoy that well earned drink!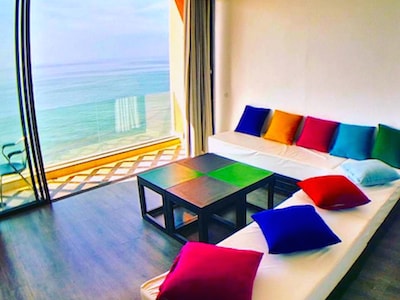 THE BOUAD HOUSE
Four years to build and well worth it! A mix of apartments and ensuite double rooms, we started the building works when we felt much richer… four years later we eventually finished them.
Floor to ceiling views of the ocean and just a short walk along Hash Point to the surf camp. Book in here and you won't be disappointed!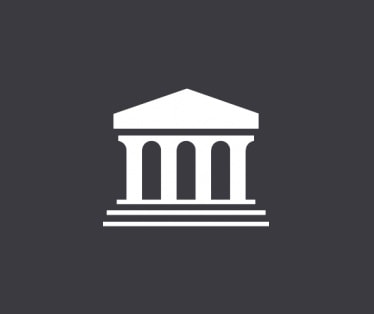 WE LOVE HELPING OUT IN THE COMMUNITY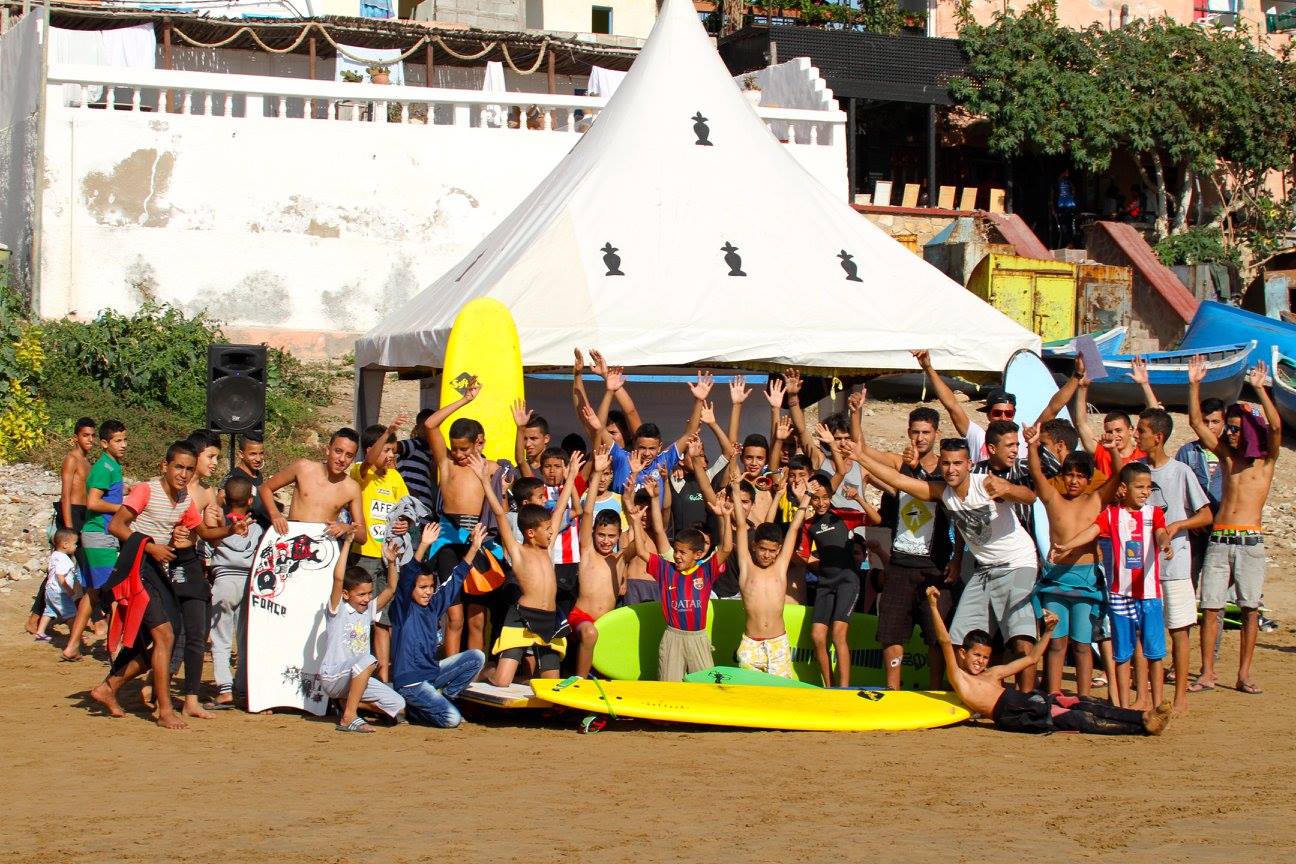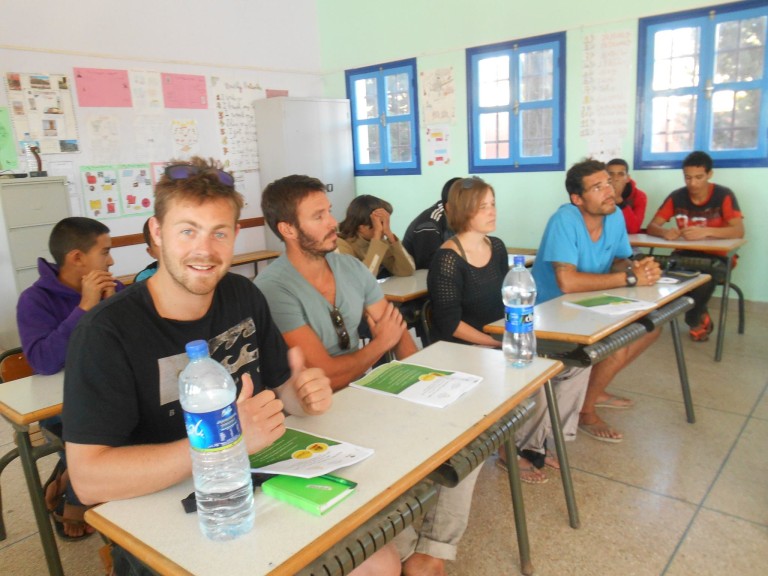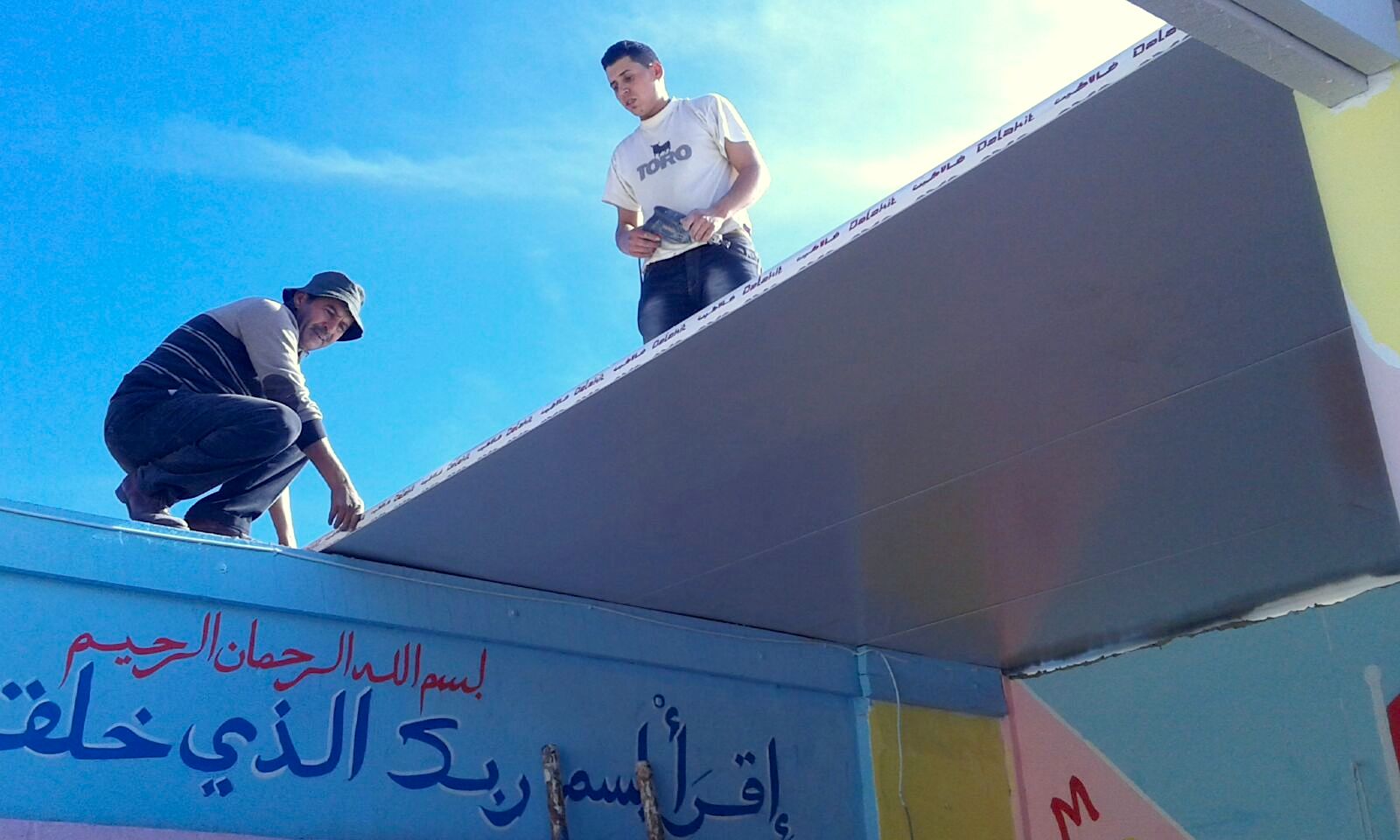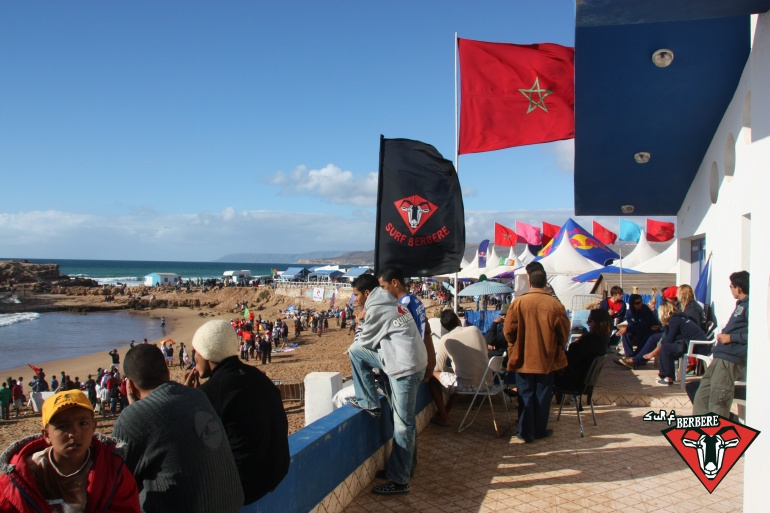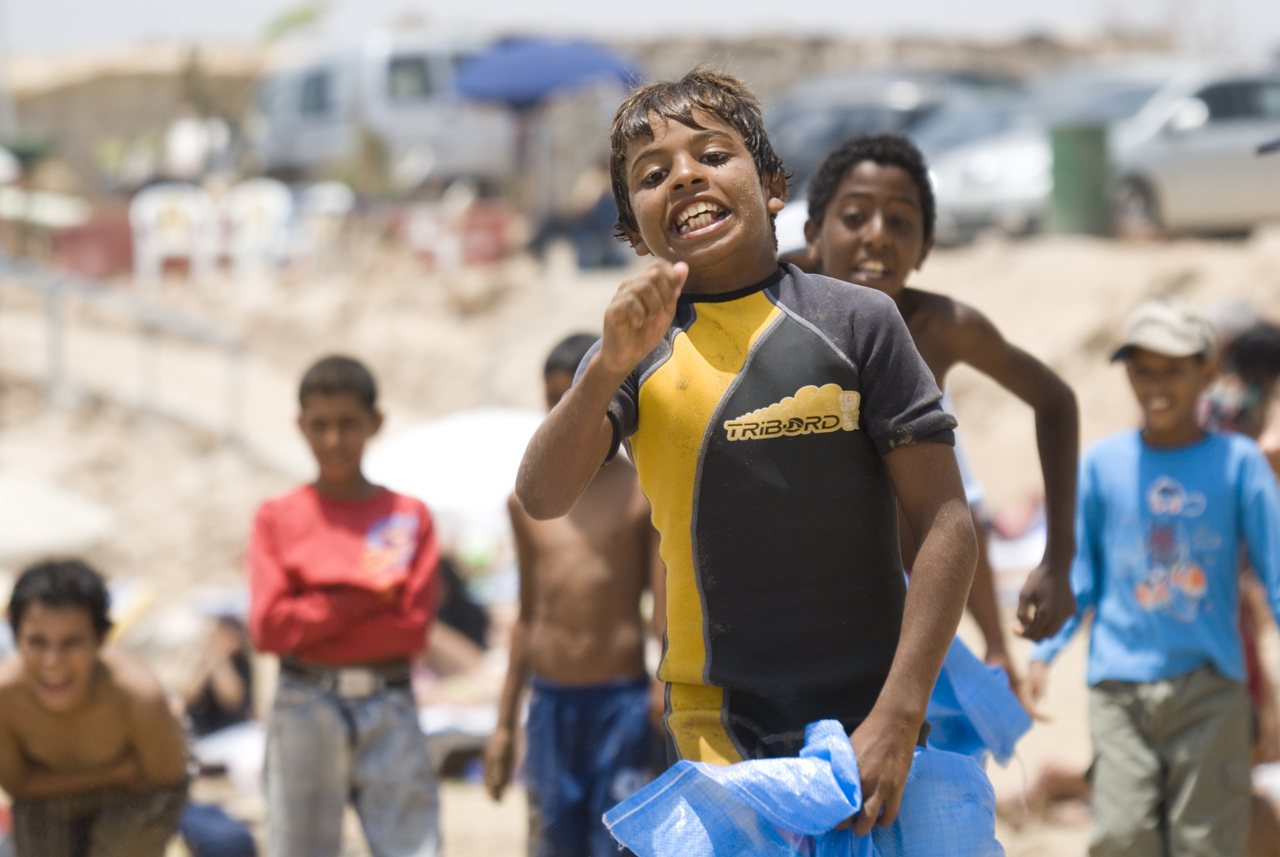 MEET THE SURF BERBERE TEAM
Some pretty faces, some less so…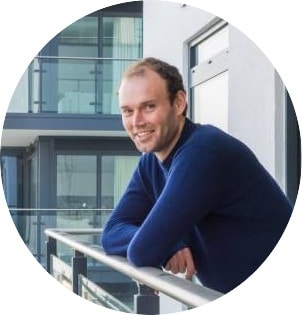 James Bailey
Co-Founder
The grumpy man of Surf Berbere, normally lurking in the shadows, James is there to quietly ensure that everyone has a good time. It has been said that he has been spotted surfing, but it is a rare event, the premise is that he is too busy.
Anyway, those e-mails don't answer themselves, after Matt left us, James has taken on the role of being your main point of contact. If you don't hear back from us within 12 hours, blame him!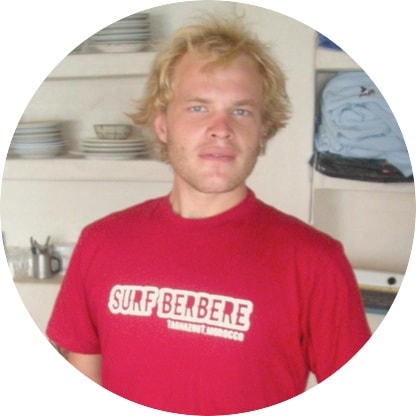 Tudor Watkins
Co-Founder
Whilst not the world's best surfer Tudor is probably the world's best friend for life. Not a worker but definitely a gentle lover he makes life in the surf camp a happy and party like existence! Known for his razor sharp wit and a slight adoration of toilet humour Tudor is the man you want your husband to be (maybe…).
Don't expect to see him in the water after his freak yachting accident left his left knee looking like a jelly fish's spine. A man with a passion for construction and beautiful concrete finishes Tudor is one of our founding partners.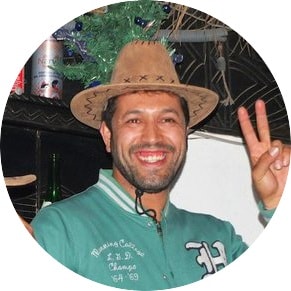 Abdul El Jazouli
Head Of Morocco Team
Back in the day Abdul was a real party boy… oh how the times have changed. He now has a lovely wife, little baby boy and he is now in charge of all the Moroccans. Yep that is right, a king amongst his peers, Abdul is the man that gets sent in to Agadir to sort out all the jobs that no one else has got round to doing themselves.
Armed with a big smile and a sense of humour more befitting a four year old, Abdul will always bring a smile to your face, just don't ask him about Jonny Cash.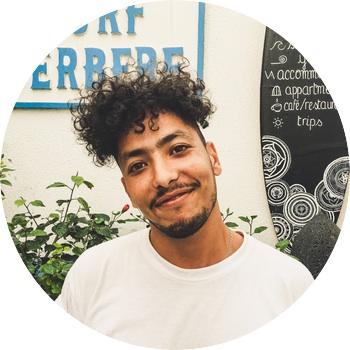 Achraf
Surf Camp Host
Achraf is our smiling chilled out Agadiri host! Bringing a sense of calm and happiness to the office, he is also quietly getting things organised in the background to ensure everyone has a great time.
Don't be fooled by the shaggy hair, a lot of time has been invested in this look!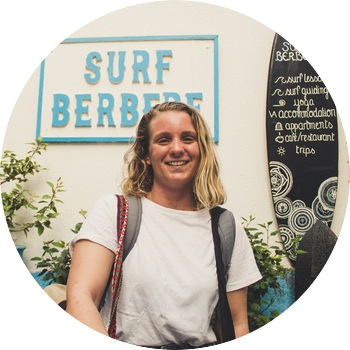 Rachel
Surf Camp Host
What do you do once you've completed your ISA Level 1 with Surf Berbere? Come back and work for us for a few seasons and start running the course yourself.
Sure, every Summer Rachel heads back to blighty to convince herself that she does want the corporate life, but she always comes back to the sunshine and waves of Taghazout. Why commute when you can surf?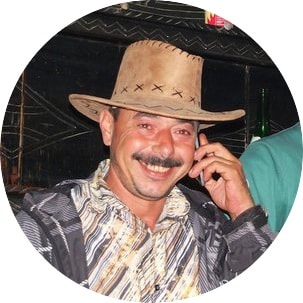 Ahmed
Driver Extraordinaire
We've said it before, and we'll say it again, "the man who has it all"! Ahmed is the sunshine that is there to greet you when you land at the airport. Always smiling, always able to find an opportunity for a five minute nap, always willing to say yes, he is up there with our very favourite people on the planet!
If you need a lift anywhere in Morocco, this is your man! He is also king of Anza, one of the best spots in the region. Watch out for Maktoudi junior in the water, that kid is a shark.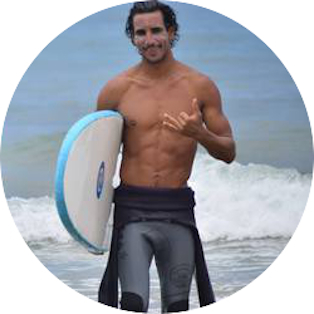 Zak
Surf Coach
Zak is a local surfer that knows the coastline like the back of his hand. Sporting abs to make the love island crew cry with shame, he is the man heading up our surf instructor courses. Don't worry, he's in shape because he surfs, not some crazy diet / fitness regime, you'll be ok.
Whether pulling in to a barrel at Dracs or your first green wave, he'll provide you with all the encouragement you need to get the best waves of your life!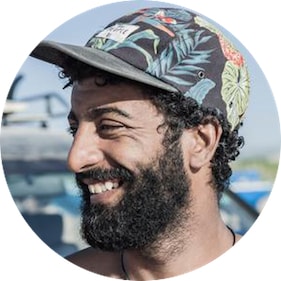 Ilyas
Surf Coach
Hailing from the North of Morocco, Ilyas is a calm and gentle surfing giant! His technical understanding is second to none and he has the patience of a saint, so even the most challenging beginners sing his praises non stop.
He is a great surfer and passionate about his work, don't let his sunny persona fool you, once you are having a lesson from him you better start paddling and catch that wave!
Rashid
Surf Coach
He's a handsome chap and he's got the charm to go with it. Rachid is our charmer, but don't worry, he's softly spoken manner and quiet helpful persona is the real deal. He is a great surf coach always willing to help, and fellas don't worry, he dishes out the charm for you guys as well.
Since making the switch from the enemy (we aren't allowed to mention their name) he has made all of our guests super happy and comfortable and countless people are now able to ride green waves thanks to his enthusiastic encouragement!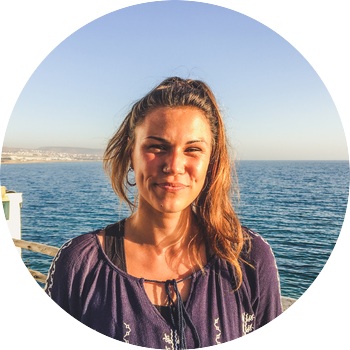 Fenny
Head Yogi
Fenny, our Dutch Ashtanga Yoga based teacher did her training in Amsterdam. She believes that mind and body are interconnected. Take care of the one, you take care of the other.
The sunset classes are relaxing where meditation and pranayama practices are integrated. Paying attention to individual needs, either physically or mentally, is important in her classes. A good talk to get to know the students is the best way to reach this goal. To be able to give some attention and love to someone, is the main reason for her to teach.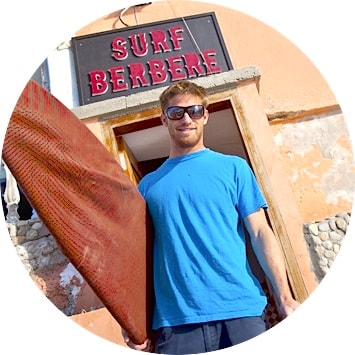 Steve
Web Dev, Globe Trotting Multigazillionaire
Steve "zero coding errors" Beyatte, web developer extraordinaire, hails from team USA and has scoured the globe for the biggest waves to feed his unquenchable appetite for the "extreme". On record for saying that he has "zero coding errors" whilst fist pumping the air he also knows how to party.
An annual visitor to the Surf Berbere Morocco surf camp Stevo has pulled out some of the greatest fancy dress outfits known to man. The "pokemon" is not a strange sex move but an all in one piece that fits in every respected surfer's travel bag – This is thanks to the way Steve changed our perceptions!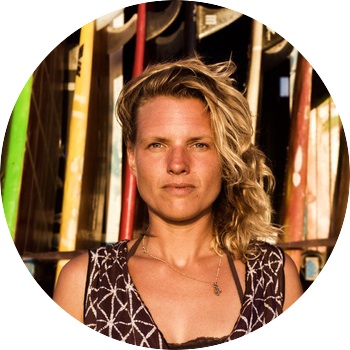 Fay
Surf Camp Host
Fay is bringing a bit of the continent to our Surf Berbere team, hailing from the Netherlands and also a former gappy (there are a few of them knocking around) she has found herself living in Tamraght (just down the road from Taghazout) and living the Moroccan dream.
Always smiling and willing to help, she's not afraid to remind the other staff what needs to be done, but she's ever so nice about it!
Think You Might Like Working With Us?
Find out what roles we have available and what it takes to be part of the Surf Berbere family!
Come Join Us For Your Next Surf Holiday
We'll do our best to ensure you have the most amazing surf trip of your life!