BUILD YOUR OWN SURF HOLIDAY
Planning your surf trip out to Morocco, but not sure if you are able to do a full week. Alternatively, thinking about staying out with us for longer than week? This is absolutely great with us, we will always try and be as flexible as we can.
We have a few packages that are set up for people coming out for a week, and whilst we don't have set arrival dates, it doesn't always fit in with your holiday program.
With that in mind, we have made it really easy for you to build up your own holiday with us to be completely flexible based on the options that you want.
CHOOSE YOUR SURF & YOGA OPTIONS
You are the boss, you build up your own holiday based on the prices in the table on the right. Step 1) Choose your bed type (bunk bed or private double room, both are cleaned daily), then you add in things like surf lessons, kit hire, meals and whether you fancy joining us for some yoga sessions.
No Set Arrival Day Of The Week
That's right, you don't have to turn up on a set arrival day, so please find the best flights for yourself, then check to see if we have availability and you can book it all in instantly online at the bottom of this page. If you are arriving late, we have a guardian 24/7 so you can arrive anytime!
Minimum 3 Night Stay
You can book your holiday for any arrival day of the week and you can stay for as long as you want, but we do have a minimum of 3 night stay (sorry, cleaning costs etc). The only thing to bear in mind is that surfing is a hard sport, so the longer you can give yourself the better!
Airport Pickups From Agadir, Marrakech and Essaouira
Organising your trip is hard enough, then to find out the flights are expensive and don't go on the days you wanted. We will happily come and collect you from the Agadir, Marrakech or Essaouira airports, the fares are just below:
Agadir Airport (55 mins): 300dhs
Marrakech Airport (3.5 hours): 1200dhs
Essaouira Airport (2.5 hours): 700dhs
SPLIT FARES: if we are able to put other guests in your airport transfer we will, this means you get to split the fares (i.e. the cost is per vehicle sent, not per person).
BUNK BED & BREAKIE (PPPN) £28

DOUBLE BED & BREAKIE (PPPN) £20

SURF LESSONS & LUNCH £15

BEACH TRANSFERS & LUNCH £8

BOARD HIRE £8

WETSUIT HIRE £8

SUNSET YOGA £8

THREE COURSE DINNER £8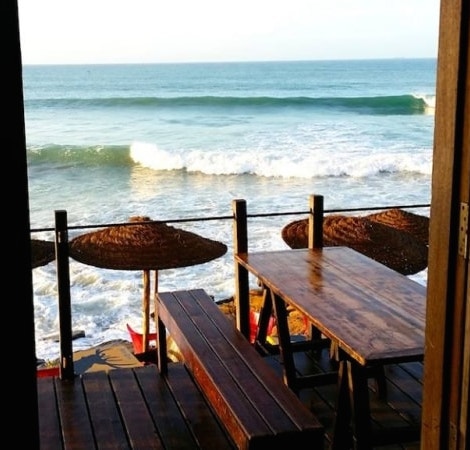 What A Normal Day Looks Like
Each morning we wake up to a delicious buffet of fresh fruits, cereals, yoghurts, breads and spreads and pancakes down at the cafe (which is about 40 meters to the right of the surf camp). This gets us ready for a full day out surfing from 9am until 4.30pm.
Normally we'll have a couple of hours of surf coaching in the morning, then eat our packed lunches down at the beach with some more surf coaching in the afternoon for anyone that still has the energy (this is all included in our surf lesson prices).
Once we get back, we have a some time to relax, shower, have a tea or coffee watching the waves.
Every evening we have a yoga session in time for sunset over Hash Point, one of Morocco's most beautiful vantage points. Our open air yoga studio enjoys stunning views over Hash Point.
We finish with dinner and drinks up on the surf camp roof terrace. We have a hearty 3 course meal and finish it all off with a shisha pipe and some mint tea! 
Our Surf Coaching
Every day we send out up to 4 people movers (oh the glam!) with groups of no more than 8 guests per instructor. Normally it works out that there are groups of 3 – 5 people with each instructor.
For more advanced surfers, we normally have a group or two heading to the points and reefs, so just ask about this as well.
Once we get to the beach, the surf instructors will take you for a warm up and then give you a bit of a theory session on the land before sending you out in to the water. We normally have a couple of hours of coaching in the morning followed by a packed lunch down on the beach. Then there is more coaching in the afternoon for anyone that still has the energy. At around 4pm, we start to pack up and head home in time for a sunset yoga session or even just a nice cold beer!
Every evening we'll ask for your feedback and we're so confident that you'll love our lessons that if anyone is unsatisfied, we'll refund 100% of their day's surfing straight away.
Surf lessons with beach transfers and packed lunches are £15 for the day (200dhs).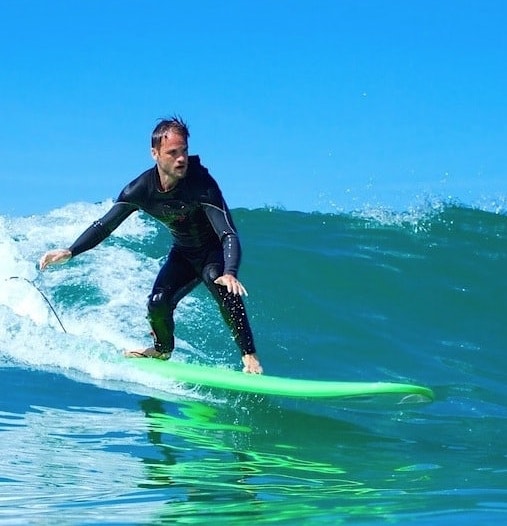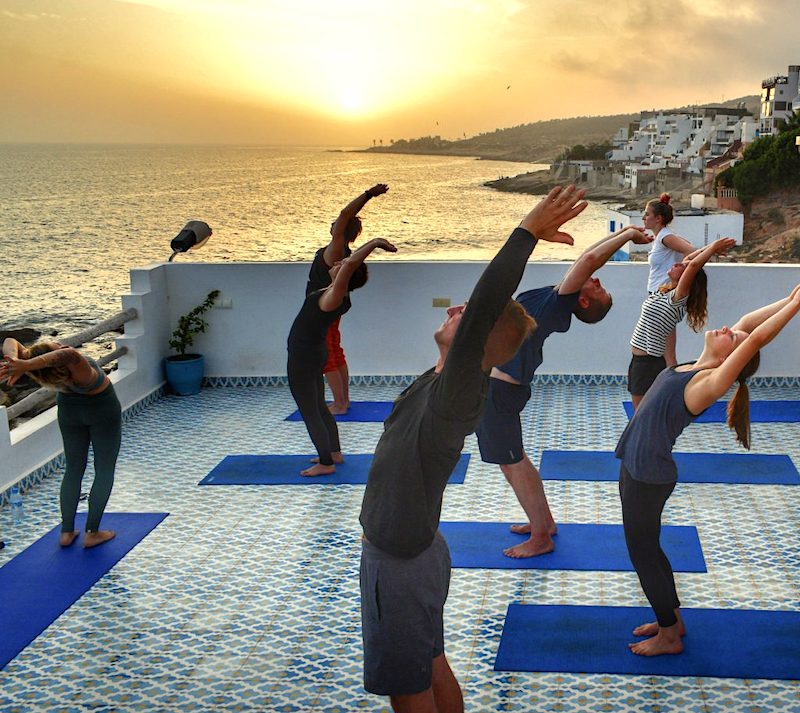 Our Yoga Teaching Styles
Our yoga instructors, Katie and Chanti have a wealth of experience of teaching yoga all over the world. Our classes are a mix that has been developed over the years to help improve wellness, but also to help the body recover from a long day of surfing.
Our style of yoga is physically demanding due to the constant movement from one pose to the next (Vinyasa) practiced in its correct sequential order. Our Ashtanga style gradually leads the practitioner to rediscover his or her fullest potential on all levels of human consciousness, physical, psychological, and spiritual.
Combined with the practice of correct breathing (Ujjayi Pranayama), postures (asanas), gazing point (driste) and energetic locks (bandas), we help you gain control of your senses and uncover a deep awareness of yourself.
Our sunset yoga classes last just over an hour and are £8 per session (100dhs).
Surf Camp Dinners
Every evening after the yoga session, we prepare a three course dinner that is served up on the Surf Berbere surf camp roof terrace, arguably one of the most spectacular terraces in Morocco.
Our evening meals are a mix of traditional Moroccan meals such as tajines and couscous with some modern classics like our pizza night.
We are catering for between 15 and 30 people each evening and it is always a set menu, so have a chat with our hosts in the morning to see what we have lined up. Some evenings it will be something you absolutely love, some evenings you might decide that you want to eat out in town.
We can't force everyone to love fish, but we can make sure that when it is fish bbq night, anyone that loves fish, loves our dinner! Our surf camp dinners are £8 for a three course meal (100dhs).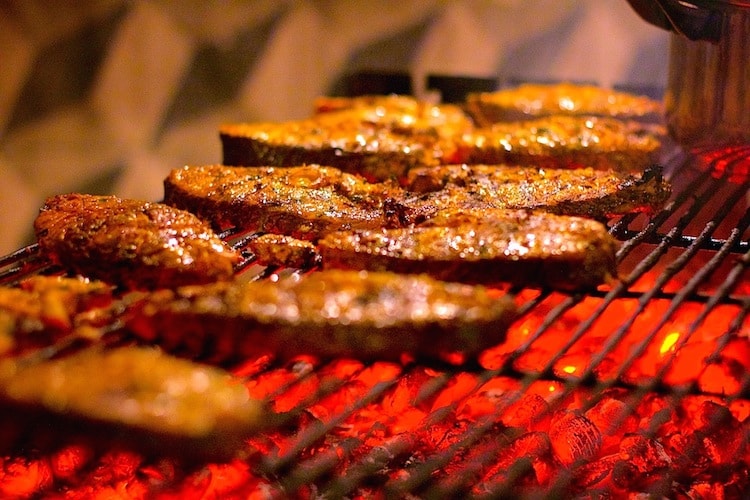 BOOK YOUR SURF HOLIDAY NOW
Just click BOOK NOW to check availability and start building your surf holiday!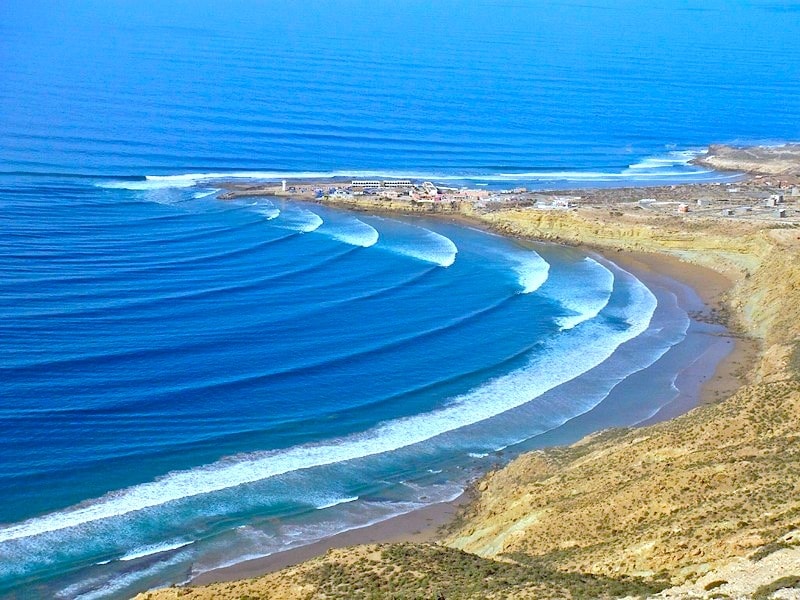 Immesouane
When the swell is right, we'll try and get you up to Immesouane, home to one of the longest right hand waves in the world! Immesoaune is a beautiful fishing town with a stunning backdrop of mountains and cliffs. It is an absolute favourite of our guests and we try and get up there as often as we can. We head off nice and early in the morning, have a morning session surfing, then hit up the fish market for locally caught catch of the day. This is then grilled up to be served with some fries and salads. We normally have time for another session in the afternoon before hitting the road back to Taghazout.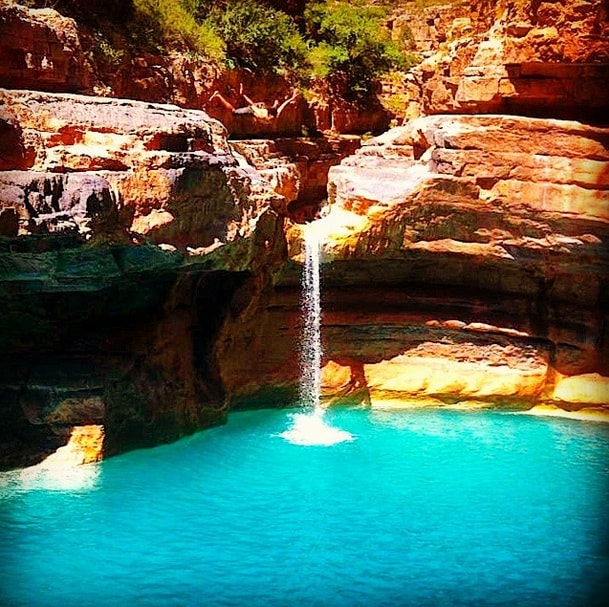 Paradise Valley
Once a week we try and take a group off to Paradise Valley. It is a 45 min drive to the mountains behind Aourir. Once we have parked up, we do a 15 minute walk into the valley where you come across a series of lush rock pools in a beautiful oasis. Normally we have a tajine up there, cooking whilst we are off swimming and doing the rock jumps. Then on the way back we stop off at an argan cooperative where the local ladies show you how the oil and creams are all made!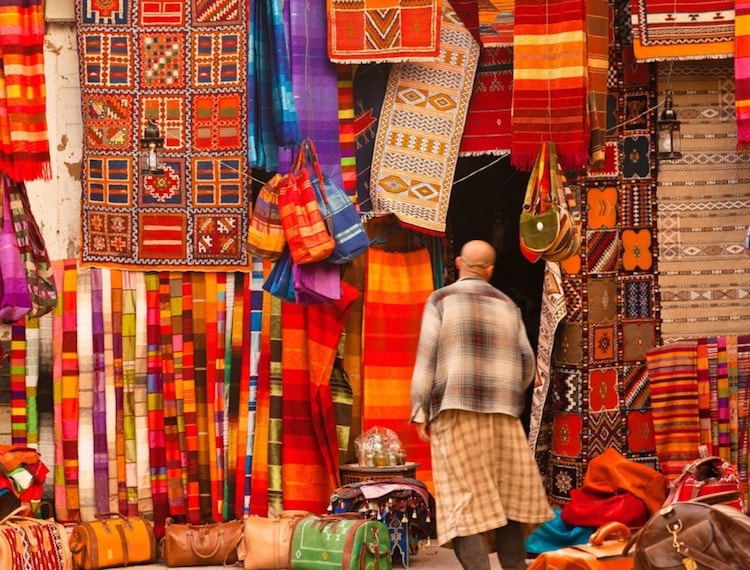 Agadir Souk
This is what we'd describe as an entry level souk. Charming, easy going and no hassle, but with all the same moroccan artifacts that we were hoping to find. If you ask the hosts, we can easily organise a group to head in to Agadir for an afternoon of wandering round the souk where you can get your last minute presents for the family back home, or just look longingly at stunning moroccan lamps that will in no way work in your house back in England!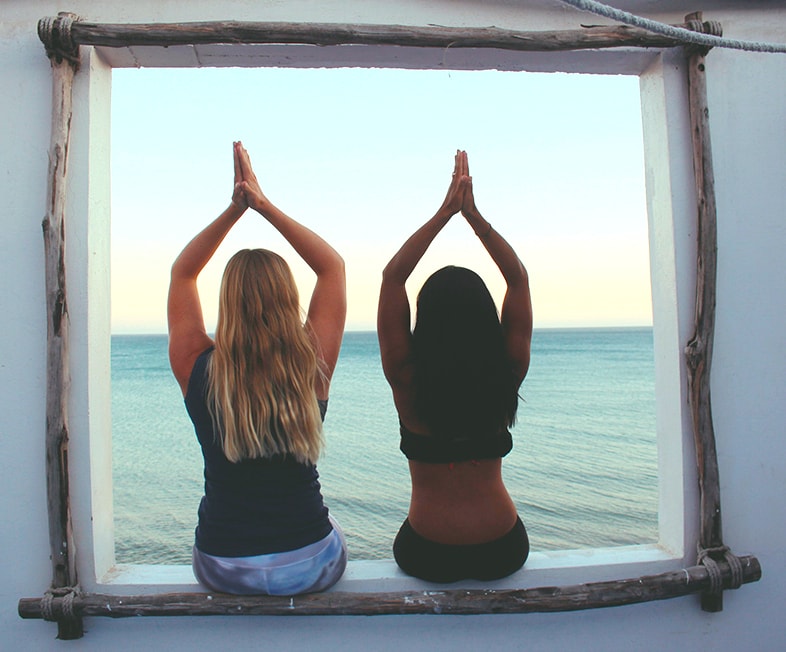 Day Trips & Extras Explained
Day trips, massages, and beach rides are not included in the package, but we are more than happy to organise them for you. The Surf School Package has 5 days of surfing, this means you'll have a day off and potentially if you have an evening departure flight, another half day to fill at least.
So with this in mind, we have some great extra activities that you can do. We have the paradise valley trip for just 200dhs all in, the Immesouane day trip is 200dhs. If you fancy heading to the Agadir souk, we can organise for you to go in for just 100dhs, for all of these trips we need a minimum of 3 people to be keen to go otherwise we'll need to charge a bit extra. Then other things you can try out are camel riding, horse riding on the beach, or if you are a bit tired or fancy a bit of relaxation we can book you in for a massage (300dhs for an hour), or just come and join a yoga session for just 100dhs in time for sunset.
Daily Schedule
| | |
| --- | --- |
| 8am – 9am: | Cafe KR Buffet Breaky: Every morning we lay out a spread of fresh fruits, yoghurts, cereals, locally baked breads and spreads, plus some pancakes to get you ready for an action packed day. |
| 9:15am: | Meet Your Instructors: We have the most lovely surf instructors and we'll do the intro's at breaky then they will take you up to our surf shop to organise your board and wetsuit for the day. They'll give you a big bottle of water for the day as well. |
| 10am: | Hit the beach: But don't charge for the water just yet, first, we need to make sure you get a proper warm up and some instruction. Down at the beach we have a couple of hours of coaching (no more than 8 guests per instructor, but generally it is 2 – 5 guests per instructor). |
| 12.30pm | Salads & Delicious Baguettes: A tasty packed lunch is served down at the beach. Gone are the days of getting a crusty cheese baguette! We try and get you a nice mix of healthy and nutritious salads with locally sourced ingredients. (If you have an allergy or intolerance just let us know, we'll happily cater for you). In addition there are some fresh fruits, crisps, nuts and cookies! |
| 1.30pm – 4pm: | Surf & Beach Activities: Our instructors are on hand to give you more coaching in the afternoon, but if you feel your arms can't take it any more, we often have a game of frisbie or footy on the go down at the beach. Fancy reading your book, also fine, we have our umbrellas set up for you to chill out and relax! |
| 4.15pm: | Home Time: We try and get back to the surf camp for around 4:30 to 5pm each day, this gives you a bit of time to relax, have a shower or a coffee before our yoga class. |
| 6pm: | Sunset Yoga: Relax and stretch out those muscles in our open air studio enjoying stunning views over the ocean. It doesn't get much better than this, lying back to clear skies as the sun slowly sets over Anchor Point. |
| 7:30pm: | 3 Course Dinner:Every evening we have a delicious, hearty dinner prepped by our in house chef Mohamed and his team. Most evenings there is a starter of a soup or salad, followed by a mix of traditional meals such as tajines and couscous, to the less traditional brochettes and bbq fish. Momo's apple crumble is something to watch out for as well! |
Getting To Taghazout
Getting to us is easy, there are budget airline flights from most countries to Agadir Airport at least once a week. Agadir airport is our nearest airport (just 55 mins away), but we can also organise transfers from Marrakech and Essaouira. Here is a quick outline of the costs for the transfers (which we split between everyone coming in on the same flight to keep costs down for you):
Agadir Airport: 300dhs (roughly £22)
Essaouira Airport: 700dhs (roughly £51)
Marrakech Airport: 1200dhs (roughly £82)
Are There Set Arrival Days
We don't have a set arrival day, so the best thing to do is to check with your flights to work out when is the most convenient for you, and you can book instantly online with us below.
Can I Come For Less Than A Week
Yes of course! Our most popular packages are for a week, but that doesn't mean you can't set up your bespoke package with us. If you look here, under our BESPOKE PACKAGES page, you can create your own perfect Surf & Yoga holiday.
Thank you so much for the most amazing week. We had the best time ever and can't wait to come back!
Guys, couldn't fault it, the food was great, the company excellent and Imad and Rachid had me standing on day 1. I am already thinking about when I can come back again.
BOOK YOUR SURF HOLIDAY NOW
Just click BOOK NOW to check availability and start building your surf holiday!
OUR WEEK LONG PACKAGES
We've been doing this for a while now, we think we've got a pretty good formula!
Surf School Package
£390 per person per week
An action packed week full of surfing, hearty meals, stunning locations and great company.
• 7 nights accommodation in our Taghazout surf camp.
• 5 days surf lessons
• 5 days board hire
• 5 days wetsuit hire
• Cafe KR buffet breaky, packed lunches at the beach and all evening meals up on the camp roof terrace.
Choose this package if you keen to learn to surf with some expert guidance and happy staying in one of the best surf camps in Morocco. If making a group booking, or you are a student get in touch and we'll be able to organise a discounted rate.
Surf & Yoga Package
£430 per person per week
This is an amazing all inclusive week packed full of surfing, yoga, healthy delicious food and generally good times.
• 7 nights accommodation in our Taghazout surf camp.
• 5 days surf lessons
• 5 days board hire
• 5 days wetsuit hire
• 5 sunset yoga sessions
• Cafe KR buffet breaky, packed lunches at the beach and all evening meals up on the camp roof terrace.
The goal is that you don't have to dip in to your wallet at all once you are with us, so you can relax and get on with enjoying your holiday!
CONSIDER OUR WEEK LONG SURF PACKAGES
We have two really popular options, our Surf School Package and our Surf & Yoga Package, both are great value, you can arrive any day of the week (so check your flights to see when they come in), and both packages mean you really don't have to think about much when booking your surf holiday with us. Trust us, we've been doing this for years!
BOOK YOUR SURF HOLIDAY NOW
Ready to book up your surf holiday online, click here to book instantly online!
BOOK NOW