PANORAMAS 3 BED
"Stunning Views, Epic Location"
Stunning 180 Degree Ocean Views
Situated right on the waterfront, on top of Panoramas point, these modern apartments have one of the most stylish fitouts in the area. They also enjoy 190 degree views from the big 8km beach to the South, all the way up to Anchor Point in the North.
You are still right in the heart of Taghazout if you are staying here and with two double bedrooms and a twin room, there is enough room for all the family and kids.
The kitchen is fully equipped so it is an ideal place to stay if self catering, you also have a magnificent large terrace which makes it supremely easy to cater for groups up to 12 people if you fancy having some friends round.
2 Double Bedrooms & Twin Room
2 Western style toilets two hot showers
Modern kitchen
Fridge and oven
Fully Equipped Kitchen
Living Room
Wifi
Fresh plain white cotton bed linen
Private balcony overlooking ocean
Towels provided
Check In: 2pm
Check Out: 10am
Pets Are Allowed
Additional Guests Are Allowed (Max 2 Extra)
Thanks James and the team, this apartment was great. We had the best holiday and the kids can't wait to come back, so it looks like we'll be seeing you same time next year!
£840 per week
Ideal For Couples
Optional Extras For Apartment Guests Car Rental
If you need a hire car, we can organise for your car to be waiting for you at the airport, or alternatively at Taghazout with roof racks ready for your first surf trip! Camp Dinners
If you don't fancy cooking, just come to our surf camp dinners, 3 courses every evening on one of the most spectacular roof terraces in Morocco. Kit Hire
We have a huge range of board hire and wetsuit hire available from our surf shop so you don't have to worry about the airlines dinging your board or losing your wetsuit. Sunset Yoga
Join our yoga classes in our open rooftop yoga studio on Hash Point. Stunning sea views, clear skies and relaxing yoga just in time for sunset, heaven!
What Our Guests Are Saying About This Apartment
"Un superbe appartement avec une vue à couper le souffle !!! Notre hôte était très amical et efficace. Nous avons adoré l'expérience Taghazoute, je recommande vivement ce logement qui vous fera vivre l'expérience Taghazoute pleinement :)"
"James, The apartment was amazing. The service from Surb Berbere was great. No complaints whatsoever. Will certainly be back. You really made this process very easy. Just a quick question… I noticed the flat on the ground floor of the penthouse complex was under renovation. Is this a property within your portfolio – and is this something you will be offering as a rental property, or do would you consider this for offer by private sale? Once again, thanks a lot!"
Surf Berbere
Panoramas Apartments
Frequently Asked Questions
When Is Check In?
The check in time for our apartments is 2pm, but if you are arriving earlier in the day, sometimes we can get you in before then. Just get in touch with us in advance and we'll see if we can help.
In the worst case scenario, you can leave your baggage in our store room in the office, go and have a surf and come back later in the day to pickup the keys.
Does This Apartment Share The Terrace?
Each apartment has it's own terrace, but you also have access up to the roof terrace. This is a great space with sun loungers, a bar area and a beer fridge (you need to provide the beer…).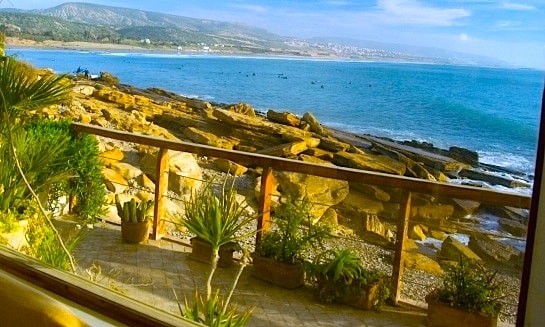 Why Book Through Surf Berbere
We have nine years of experience of apartment rentals in Taghazout. We take the stress out of booking your apartment. This means not worrying about a cold shower, not turning up to an apartment without sea views, not arriving in Taghazout to find the apartment has been double booked.
So rather than booking through another bigger site that has no local knowledge but lots of listings, use us and our local experience to make sure you have a great holiday and don't get left with a dodgy apartment!
Book Your Taghazout Apartment Rental Now
Just click on the BOOK NOW button below:
Not Sure? Check Out These Options
Bouad Penthouse
From £78 per night
The Bouad Penthouse is in the heart of Taghazout overlooking Hash Point. Floor to ceiling views of the ocean coupled with stunning marble counters and a luxury bath to make it one of Taghazouts most luxury apartments.
On The Rocks
From £65 per night
Overlooking Panoramas point and the Taghazout beach, On The Rocks has one of the most enviable positions in Taghazout. The apartment is fully equipped with a modern kitchen and western bathroom, and has superb terrace space for entertaining.
Cloud 9
From just £55 per night
The top floor of the Surf Berbere camp is the Cloud 9 apartment. The location couldn't be any better and you have direct access up to one of the most beautiful terraces in Morocco. The apartment has a fully equipped kitchen and Western bathroom and is ideal for anyone wanting to be part of the camp, but still wanting their own privacy.