SURF CAMP CLOUD 9
"The Owner's Penthouse!"
Hash Point Is Your Garden
Cloud 9 is where James, the founder of Surf Berbere used to live. Decorated in traditional tiles and tadelakt plastering the apartment also has sensational views all over Tagahzout, perched up at the top of the surf camp building.
This studio apartment has a fully equipped kitchen, lovely living area and western bathroom. There is a workspace surface with views right back over Taghazout village and the ocean. The whole apartment has huge windows overlooking the ocean as well.
Whilst the Cloud 9 apartment doesn't have a private terrace, just 10 steps up from the apartment front door, you have the surf camp roof terrace, arguably the nicest terrace in Taghazout, possibly the whole of Morocco. With everyone heading out surfing most days, you get a pretty big private terrace from the hours of 9.15am through to 4pm, ideal for a bit of sunbathing!
One Master Bedroom
Double bedroom
Wardrobe
Iron and hairdryer if requested
Western style toilet and hot shower
Living Room
Wifi
Fully equipped kitchen
Fridge
Kettle
Fresh plain white cotton bed linen
Access to amazing roof terrace
Towels provided
Check In: 2pm
Check Out: 10am
Pets Are Allowed
Additional Guests Are Allowed (Max 2 Extra)
Had such a great stay at Surf Berbere! The staff are all super friendly and will do anything for you…the food was great and the accommodation is clean and spacious. It has everything you need. The location is great and the views are gorgeous. Overall great stay and would recommend!!
£385 per week
Ideal For Two Couples
Optional Extras For Apartment Guests Car Rental
If you need a hire car, we can organise for your car to be waiting for you at the airport, or alternatively at Taghazout with roof racks ready for your first surf trip! Camp Dinners
If you don't fancy cooking, just come to our surf camp dinners, 3 courses every evening on one of the most spectacular roof terraces in Morocco. Kit Hire
We have a huge range of board hire and wetsuit hire available from our surf shop so you don't have to worry about the airlines dinging your board or losing your wetsuit. Sunset Yoga
Join our yoga classes in our open rooftop yoga studio on Hash Point. Stunning sea views, clear skies and relaxing yoga just in time for sunset, heaven!
What Our Guests Are Saying About This Apartment
"Thanks so much for the discount, I know it is the sixth time in a year (that has to be some kind of a record), I just can't get enough of this apartment, I love it!"
"Taghazout's just got it all, bit disappointed my shoulder couldn't hold up for the whole week, but the place is just great. You have amazing weather, great undeveloped beaches and the food and culture are incredible. I can't wait to come back (just need my shoulder to heal up). Who knows I might even do some more surfing instead of playing around with my tray again!"
Frequently Asked Questions
What time are check in / check out?
This apartment is part of the surf camp building so we can do check ins pretty early if the apartment is clear of guests. Check out is 10am, so if you are arriving before 2pm, we can check you in, keep your bags in the office until the cleaning lady has gone in and perhaps send you out surfing for a bit until the apartment is ready.
I am arriving late by bus or plane, what is the latest I can arrive?
This is no problem, just please use our pickup service. We don't want to receive calls at 2am in the morning saying that you have got lost. If you use our transfers, our drivers will be ready to collect you when you arrive at either the bus station or airport and they can take you straight to your room. Then in the morning we'll do a proper check in once you have had a bit of sleep!
Does this apartment share the terrace?
Each apartment has it's own terrace, but you also have access up to the roof terrace. This is a great space with sofas, a bar area and a beer fridge (you need to provide the beer…).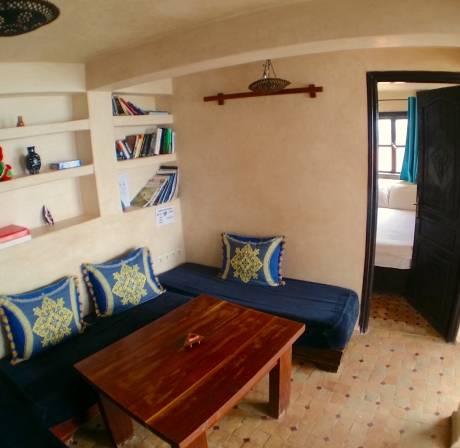 Why Book Through Surf Berbere
We have nine years of experience of apartment rentals in Taghazout. We take the stress out of booking your apartment. This means not worrying about a cold shower, not turning up to an apartment without sea views, not arriving in Taghazout to find the apartment has been double booked.
So rather than booking through another bigger site that has no local knowledge but lots of listings, use us and our local experience to make sure you have a great holiday and don't get left with a dodgy apartment!
Book Your Taghazout Apartment Rental Now
Just click on the BOOK NOW button below:
Not Sure? Check Out These Options
Bouad Penthouse
From £78 per night
The Bouad Penthouse is in the heart of Taghazout overlooking Hash Point. Floor to ceiling views of the ocean coupled with stunning marble counters and a luxury bath to make it one of Taghazouts most luxury apartments.
On The Rocks
From £65 per night
Overlooking Panoramas point and the Taghazout beach, On The Rocks has one of the most enviable positions in Taghazout. The apartment is fully equipped with a modern kitchen and western bathroom, and has superb terrace space for entertaining.
Cloud 9
From just £50 per night
The top floor of the Surf Berbere camp is the Cloud 9 apartment. The location couldn't be any better and you have direct access up to one of the most beautiful terraces in Morocco. The apartment has a fully equipped kitchen and Western bathroom and is ideal for anyone wanting to be part of the camp, but still wanting their own privacy.