The Best Places to Eat in Taghazout, Morocco
"Where To Eat Out In Taghazout"
Taghazout, a charming coastal village nestled in the heart of Morocco, is not only a surfer's paradise but also a food lover's haven. The influx of tourists from the new developments in the area has just helped raise the standard of cafe and restaurant in this surfers paradise.
With its stunning beach views and vibrant culture, Taghazout offers a delectable array of dining options that cater to various tastes and preferences. From traditional Moroccan cuisine to international flavours, this blog will guide you through some of the best places to eat in Taghazout, ensuring you savour the most memorable culinary experiences during your visit.
So here's the rundown on the eating options in Taghazout. Please bear in mind restaurants come and go, chefs have good and bad days, so we've tried to put together a list of the tried and tested favourites, mixed with a couple of the newcomers!
1. Sunset Burger:
Located on the Main Street of Taghazout, this is Tudor's breakfast, lunch and dinner joint…. Why, because he loves burgers and in his prime was taking down 10 – 15 burgers a week… getting over that freak injury has taken its toll. These guys are more than just a one trick pony though, their crepes (particularly the savoury ones) are excellent and don't forget to order a milkshake.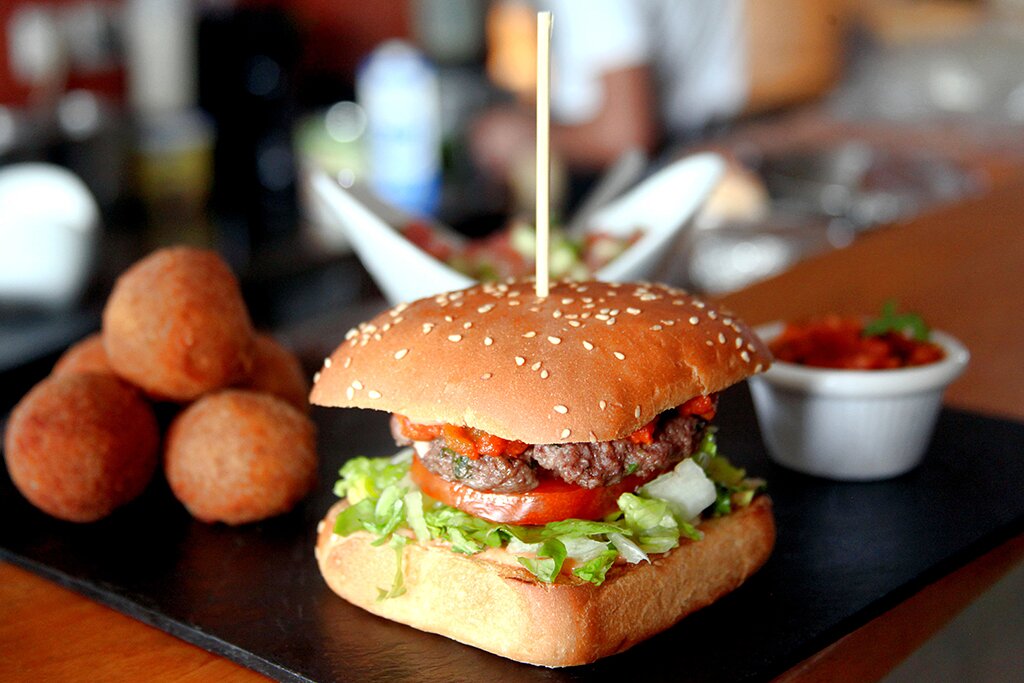 2. Restaurant Le Spot:
This is the original pizza joint for the diehard surfers over the years! There's even a mural celebrating all the incredible (and not so incredible surfers) that have visited over the years. A vibrant, busy but simple place known for its laid-back ambiance and simple menu of pizzas, salads and omelettes.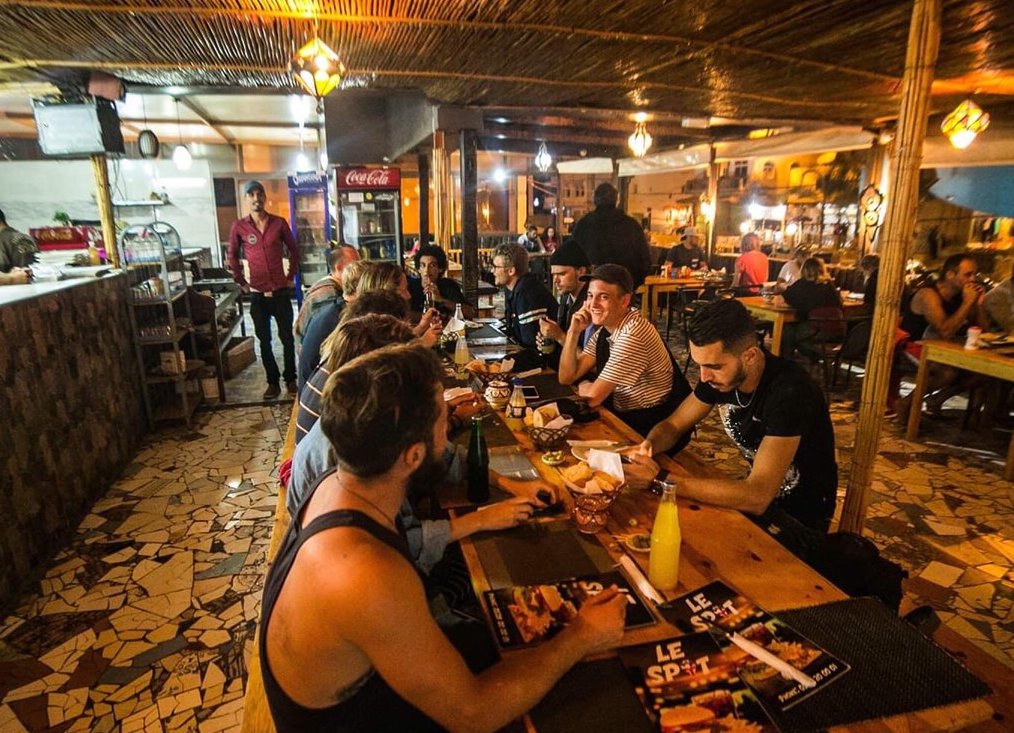 3. Dar Josephine:
Who would have thought onion soup was still going in this day and age… Well, it's still the first thing I order every time I'm here. I know why, it's banging. The rest of the menu is typically French and traditional, everything you'd expect from two mature French ladies that have seen the best of Morocco and settled up on the Taghazout high street. Everything is good, but lean in on the old school French meals and you'll be on to a rich delicious winner.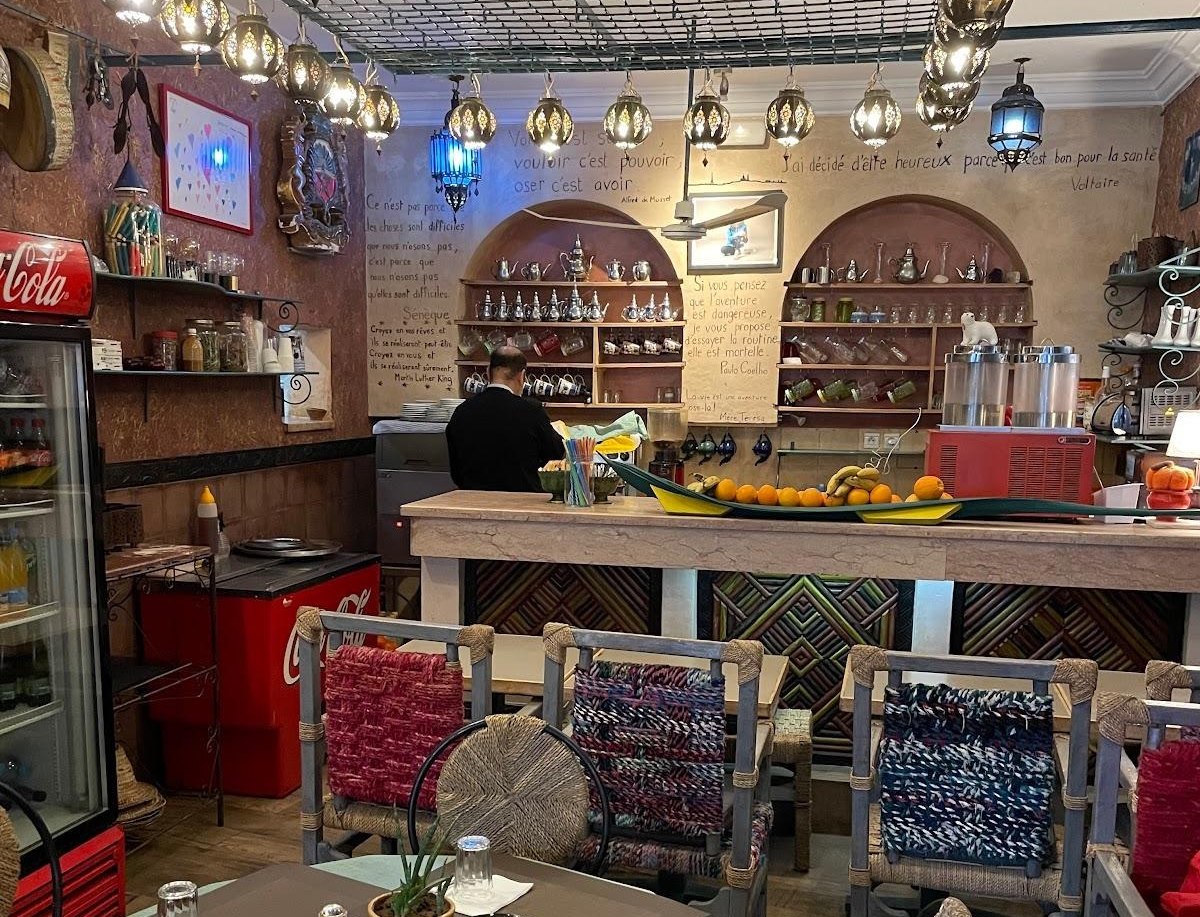 4. Cafe Surf Berbere:
Offering a breathtaking panoramic view of the Taghazout coastline during sunset, creating a magical sunset experience. The menu features a blend of Moroccan and international cuisines, offering something for everyone – our favourite is the simple chicken kebab skewers with fries. Don't miss their flavourful Moroccan tagines and grilled seafood dishes, accompanied by traditional mint tea. This is a local favourite at the weekends, so be sure to book a table if coming then.
5. World of Waves (WoW House):
Located in the heart of Taghazout, World of Waves is a popular spot for both locals and tourists. With its vibrant and chic décor, this café / hotel offers a wide range of Moroccan delights, including tagines, couscous, and pastillas. The rooftop terrace is the perfect spot to enjoy a yoga session for guests and the terrace on the Taghazout corniche is a lovely spot to watch the surfers out front on Hash Point.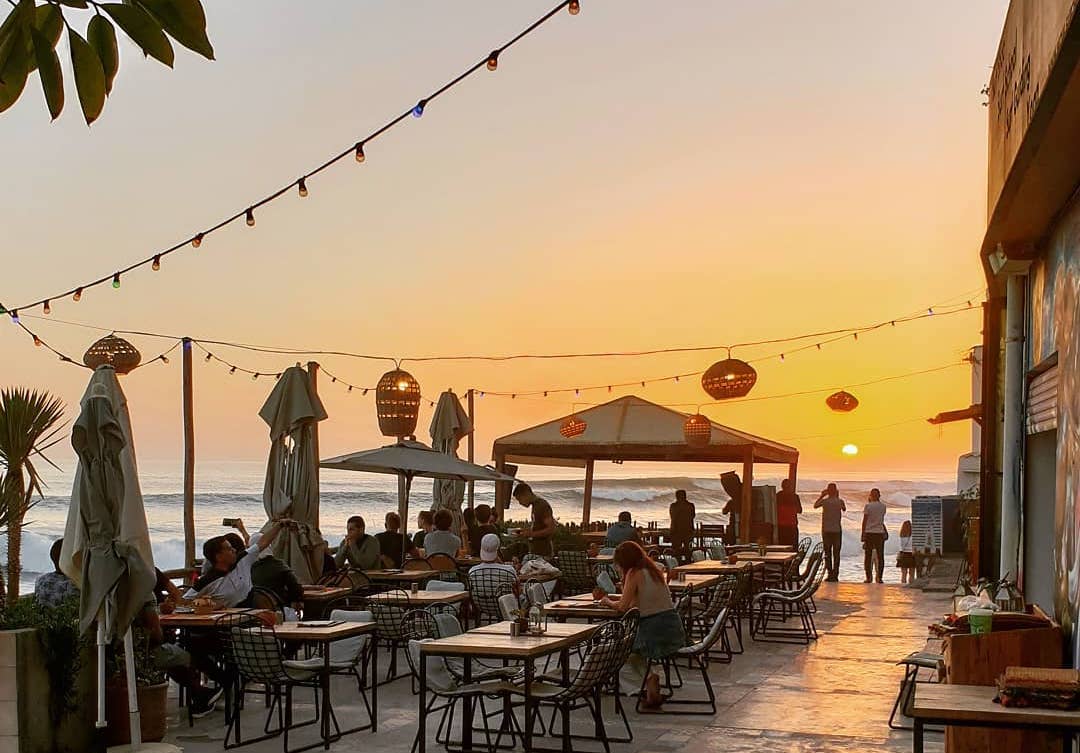 6. La Favella:
If you have the budget, La Favella is a must-visit. Nestled in a charming setting behind the Main Street, this restaurant serves up authentic Moroccan dishes, such as lamb tagine with prunes, chicken pastilla, and couscous. The beautiful decor (artisan carvings, plants, metalwork), coupled with attentive service, adds to the overall dining experience – oh and you can get a nice glass of wine or draught beer with your meal (try their pizzas, they are excellent!).
7. Chez Titrite
This is a new kid on the scene and as would be expected, they are trying harder than everyone else to come up with new dishes and new styles…. Most of the time, it works! A fusion of Moroccan and Asian meals, all in a warm setting in the centre of town, just back from the Main Street. The veggie and vegan options are epic.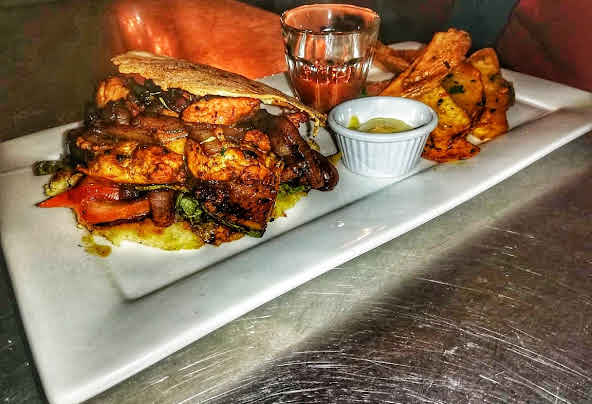 8. Taghazout Fish Market:
Sure it's left field, but every morning the fishermen are bringing in their fresh catch, why not have a haggle and see if you can snag yourself some delicious fresh fish. Don't be fooled, the one that looks like a banging tuna… it's got loads of bones! Go safe with dorade / bream! Grill the fish on some coals with some fresh salads and fried potatoes from the local groceries, a touch of cumin, paprika and coriander and you're living like a local!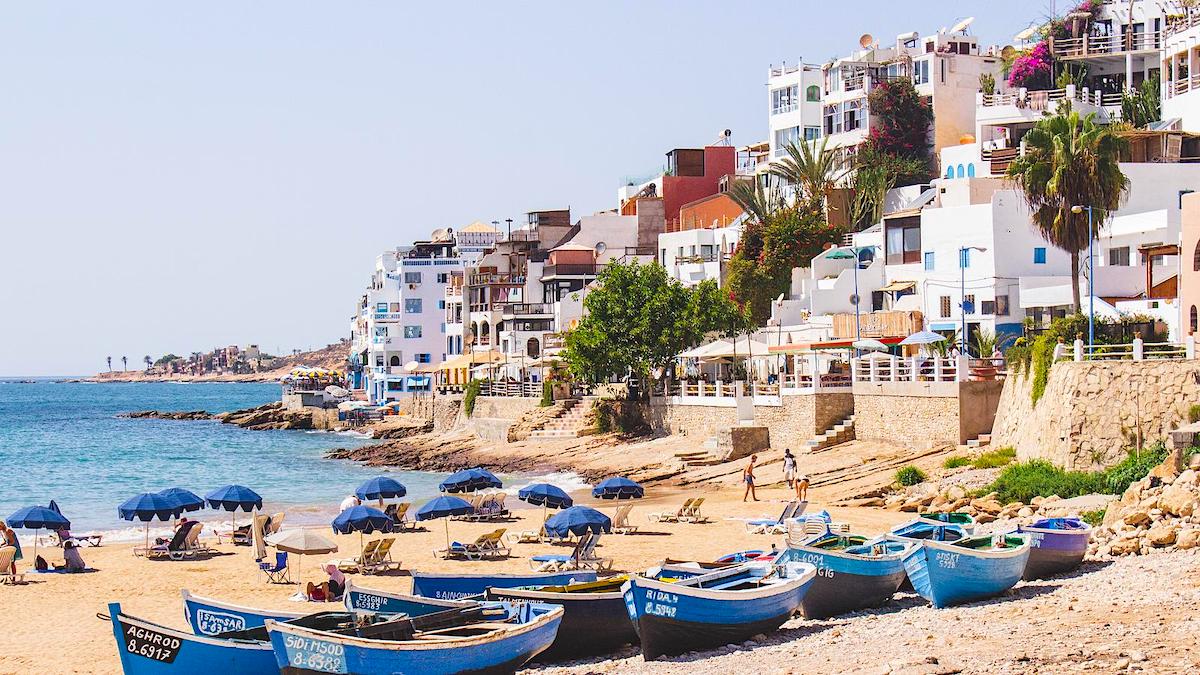 OK, so you're next question, where can you go and get a drink, fear not, we've answered that question here:
Conclusion:
Taghazout not only captivates visitors with its awe-inspiring coastline and vibrant culture but also tantalizes their taste buds with a plethora of culinary delights. Whether you're craving traditional Moroccan cuisine, international flavors, or freshly caught seafood, Taghazout has something to offer every discerning palate. Exploring the best places to eat in Taghazout will undoubtedly enhance your overall travel experience, allowing you to savour the delicious flavours of Morocco while immersing yourself in the unique charm of this coastal gem.