For surfers and for everyone else!
Last week I was out in Taghazout, it was a lush trip, great people staying, lovely waves out front on Hash Point and Anchor point was firing. If you ever want to see a spectacle then watching guys surfing Anchors on a big day is as good as it gets in terms of Moroccan surfing.
Upon my return, I received a bit of feedback in an e-mail from a lovely couple that had clearly had a good time in Taghazout. There were however, some minor gripes about the apartment they had stayed in, but these were comfortably outweighed by the beauty of the spot and location, so they were not made with any sense of anger, more a sense of 'how great it really could be' and this is the sentiment that really sums up Taghazout for so many other people: the feeling of "just how great amazing it would be if just a few things were sorted out". I replied to their e-mail and the exchange basically developed into really showing that the major frustration wasn't really with the apartment, but simple things like why don't we do beach cleanups every day? Why aren't we getting more people in the village involved? Why the restaurants don't do anything about the rubbish in front of their seating?
This got me thinking about a few things. Firstly it got me thinking about some of the things that are already amazing in Taghazout and have been for long before I ever arrived. I don't mean quite good, I mean up there with the very best places in the world that you can visit. Obviously the e-mail exchange got me thinking about some of the 'not so great' things and then I guess this recent trip actually got me thinking about all the things that have improved out of all recognition in the last nine years and are just getting better and better.
Here Are Some Of The Amazing (Truly Amazing) Things About Taghazout
The Weather: What more needs to be said here, year round sunshine, temperatures of between 20 degrees and 30 degrees celsius pretty much every day. Then throw in about 2 weeks of rain a year (normally in two / three day bursts) and 2 weeks of super heat (normally a week at a time at some point in the Summer where a Saharan wind kicks in some silly heat – 48 degrees last year).
The People: Probably one of the most open, friendly, kind people you will ever meet. Just don't try and do business in Morocco…. then you are open game!
Food: The land of spices delivers some incredible dishes, but it is the old classic that still comes up no. 1. Yep, the good old tajine. Who knew it could be so versatile. If you haven't tried them already, ask for a lamb and dates tajine, the breakfast tajine (eggs and tomatoes), kefta and eggs tajine, and finally calamari and tomato tajine!
Culture: This isn't going to be popular, but here goes. The Berber's were traditionally a fairly nomadic bunch, so in terms of culture, there are some nice tails, old settlements on the hills, but in the Taghazout area it is a bit light. Why, well an earthquake wiped out most of the area's old buildings. Don't worry though, Morocco has such an incredibly strong identity that what was already an open society with a rich history of different nations either cohabiting or colonising patches of Morocco, has meant that each area has it's own distinct flavour. Essaouira is possibly one of the most beautiful cities with its ramparts and strong portuguese architecture prominently featuring in the large squares. Taroudant shows what Marrakech could have been like if it weren't overrun by tourists, a real trading hub on the spice route!
Surf: Where to begin, rather than list all the amazing spots, I am simply going to link to this blog post that shows you some of the very best spots absolutely firing. If you have a few mins to kill, just enjoy!
The Land Of The Perfect Right Handers
Very quickly, here are some of the things that have dramatically improved in just the last few years
Water
Electricity
Internet
4G
Live sports?

Flights

Mains water, fewer power cuts, broadband internet, 4G phone signal, Easyjet flights and even the chance to watch live premier league games. We don't ask for much, but these are not only necessities, but they are key to making us very happy.
So What Are The Downers?
I don't really need to explain these, they are fairly self explanatory. The town's sewage flows out to the sea and as yet, they haven't got a realistic plan on how to deal with it. This is the biggy. The rest we can work on ourselves.
The commune are already much more proactive in taking the rubbish away. They even held a meeting with the restaurants about leaving their rubbish on the street. This is huge.
Why Am I So Positive?
We are now within touching distance. We are at the very cusp of that moment when 'how great this place could be' becomes 'how great this place is!'. We have a new President of the Commune that is now keen that the litter is actually cleaned up each week and taken to the landfill site. He is pushing the residents to tidy up the outsides of their houses and even starting to make a dent it the enormous issue of the town sewage.
On the hygiene front, this is simply a case of education and more education and more reinforcement of the learnings. When you are surrounded by people that have no idea why you are washing your hands and put every illness down to a 'change in the winds', it is really case of having to understand why you are doing it. Again we pride ourselves on pushing our staff to really think about why we are telling them to wash hands, use bleach / cleaning agents, not use the same chopping boards for meat as the vegetables. Basic things that you and I take for granted, in Morocco are a complete unknown. Their mothers are definitely not telling them what to do. But saying this, change is happening. Good restaurants are being rewarded with good reviews and more customers. It is easy to dismiss all the locals as not having the same requirements that we have, but it is simply not true. Those that worry about the hygiene of restaurants often choose to eat at home instead of eating out.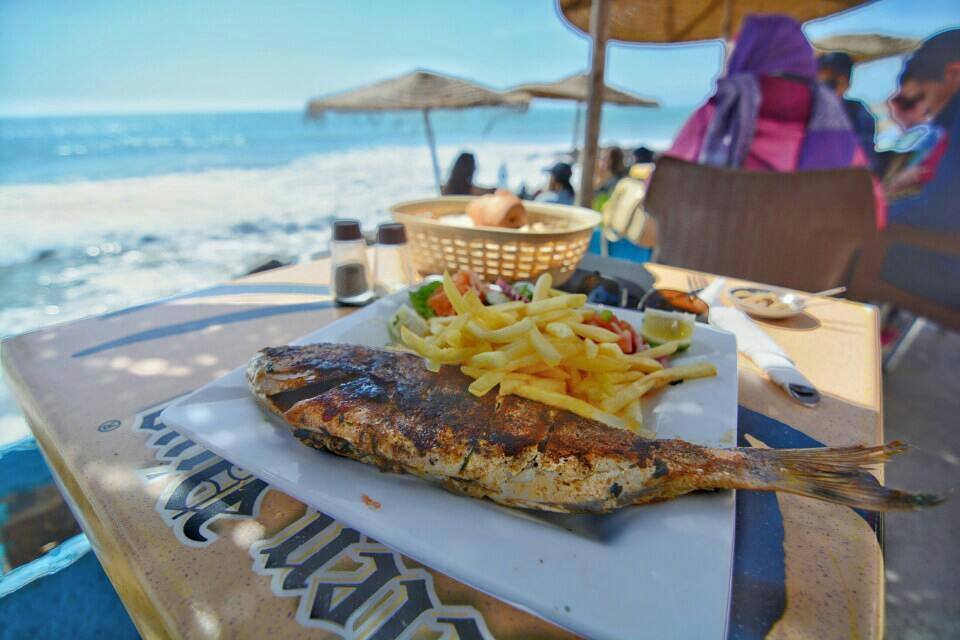 Finally, on the rubbish front, we have almost the easiest opportunity here, and actually it is here that I received the most flack in the feedback e-mail. Why aren't we doing more, why aren't we encouraging other businesses to help, why don't we do a little bit each day. All I can say is yep, sorry, will do, must try harder!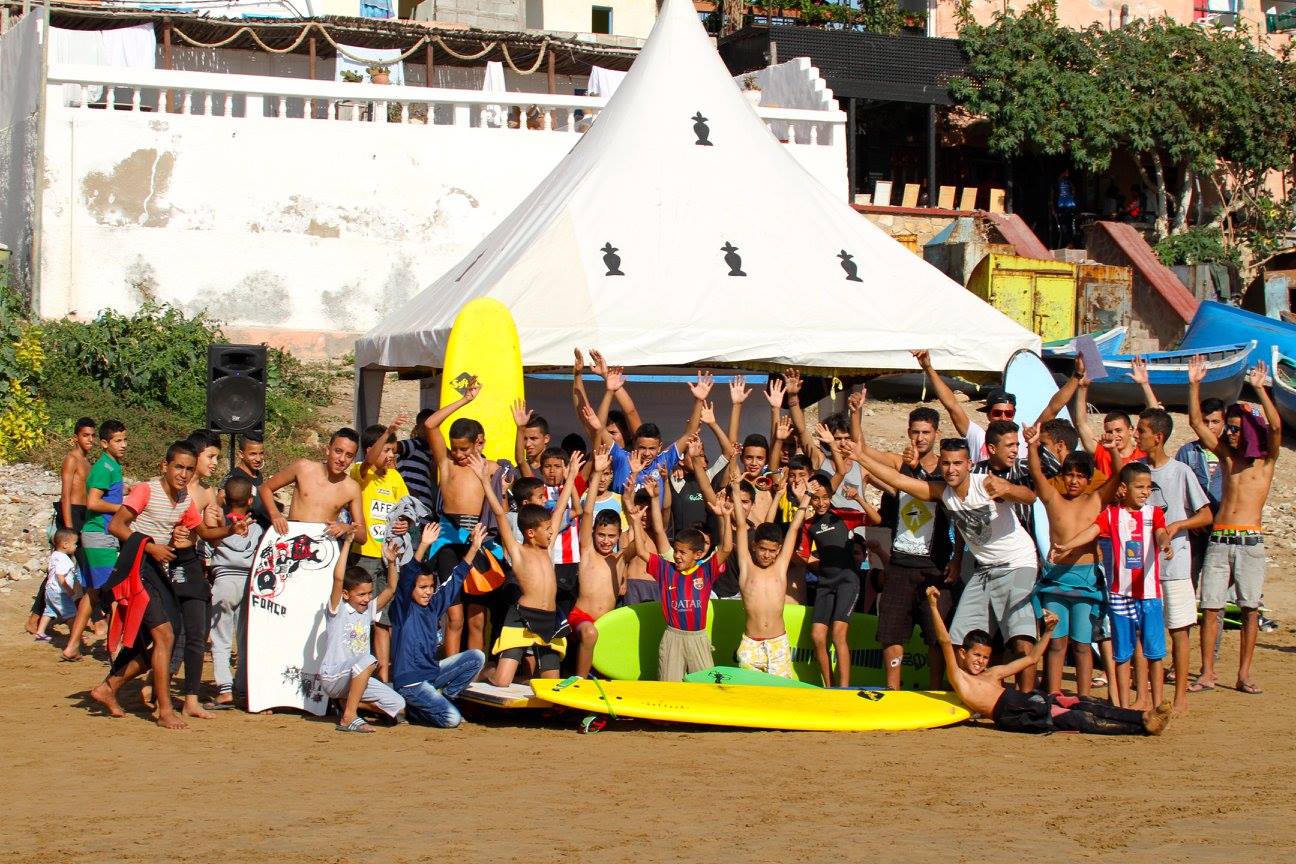 The photo above was from a little surf competition a few of the locals organised with the help of the commune. We donated a body board to the winner. It was a small reward for all the help everyone gave us when cleaning up the beaches.
Today we gave the coaches a few used flour bags (nice and tough) to take down to the beaches so that they and their guests can just bring back a bag or two of rubbish each day. With four cars going out each day, that should work out as 8 bin bags a day, hopefully 40 bags a week, 160 a month…. Let's see where we are in a couple of months. All I can say is that when I first got to Taghazout, we did a beach clean up, and we cleaned up two complete lorries of rubbish just from the Taghazout beach. Thankfully, those days are gone. Let's not let them come back through simple complacency.